Repairing the spine of a little girl from Africa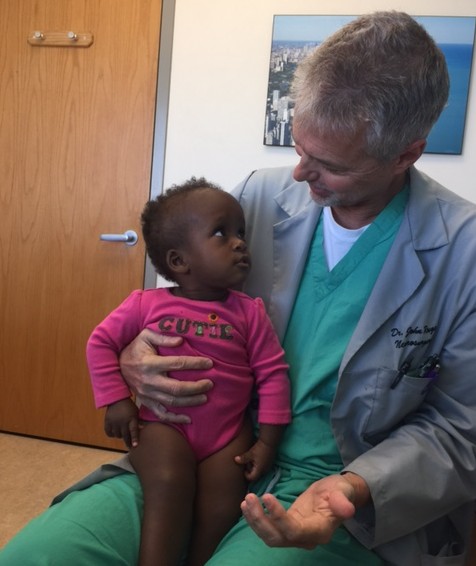 One-year-old Afiya Sare was born with an open spine in Burkina Faso, Africa. Because she didn't have any early surgical interventions, she developed a life-threatening infection and urgently needed specialized pediatric care not available in her hometown.
"I received a communication from the Children's Medical Mission West searching for someone who would help a little girl from Africa who had a large, unrepaired myelomeningocele, which are best repaired within 24 hours of birth," says Dr. John Ruge, chief of pediatric neurosurgery for Advocate Children's Hospital in Park Ridge, Ill. "The girl needed surgery as soon as possible."
A team of physicians, nurses and many others involved decided to volunteer their services in hopes of helping the child.
"When the request came to us, there wasn't a single person who flinched," says Dr. Ruge, recalling how the team of physicians, nurses and other support staff at Advocate Children's Hospital decided to volunteer their services in hopes of helping Afiya. "Everyone said if the child needed help, we'll be glad to provide the care."
Afiya flew to the U.S. with an escort and had the surgery she needed. Her American hosts provided the loving arms in place of her parents who were so far away.
"Our organization sponsored Afyia by buying her an airline ticket to come to Chicago," says Tami Shobe, founder of Children's Medical Mission West, a non-profit Christian organization headquartered in Ohio that has secured free medical care for over 240 kids from all over the world. "We also found a couple of good-hearted host families that took care of her while she was in Chicago and while recovering in Ohio. We couldn't do this without them."
"Surgery involved dissecting her nerve roots and lower spinal cord from the scarred mass of tissue that she was born with and which scarred severely from lack of early surgical intervention," explains Dr. Ruge.
There was a large open wound that needed to be closed during surgery and Dr. Ruge asked Dr. Frank Vicari, chief of pediatric plastic surgery at Advocate Children's Hospital in Park Ridge, to close the wound.
"My role was to provide a closure to a large difficult open wound," says Dr. Vicari. "This type of problem requires a pediatric hospital and the beauty of a pediatric hospital, but especially this one, is that you have teams available on really short notice to tackle difficult, complicated problems. Dr. Ruge and I have been doing this together for more 20 years."
With a team effort, Afiya's spinal cord was put back into a more natural position and her back defect was repaired.
"Without surgery she would eventually die from infection and have progressive neurologic impairment prior to her demise," says Dr. Ruge.
Shobe says that Afiya is doing well and she is in Ohio, but hoping to go back home to her parents soon.
Currently there are 11 children sponsored by Children's Medical Mission West in the U.S., but there are many more in need of care.
Click here for more information on sponsoring a child by purchasing their plane ticket or becoming a host family.
Related Posts
Comments
About the Author
Sonja Vojcic, health enews contributor, is a marketing manager at Advocate Health Care in Downers Grove, Ill. She has several years of international public relations and marketing experience with a Master's degree in Communications from DePaul University. In her free time, Sonja enjoys spending time with her family, travelling, and keeping up with the latest health news and fashion trends.