How to shovel snow safely this season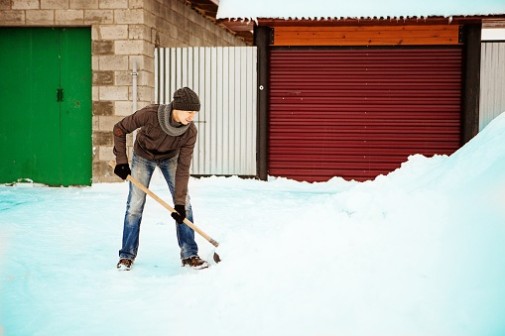 It's the time of year when any morning you may wake up to find the ground covered with snow, and this just might be the case for millions in the Midwest who are expecting their first snowfall of the season Saturday.
Whenever it happens, for many men it usually means getting out the shovel – and that can bring about some heart problems.
Most men will shovel their driveways and sidewalks without incident. But, they may not exercise regularly or have been tested to see if they have an increased cardiovascular risk. The act of shoveling snow places a significant strain on the heart, which can result in a heart attack, an arrhythmia or even sudden death.
Shoveling snow is an intense anaerobic activity that raises the blood pressure and heart rate to potentially unsafe levels. When combined with extremely cold temperatures, the risk for a massive heart attack increases.
It's essential that everyone follow these shoveling snow tips from American Heart Association:
Take frequent breaks.
Don't eat a heavy meal prior to or soon after shoveling.
Use a small shovel or consider a snow blower. It is safer to lift smaller amounts more times than to lug a few huge shovelfuls of snow. When possible, simply push the snow.
Don't drink alcoholic beverages before or immediately after shoveling.
Stay warm, stay covered.
Have a shoveling buddy – it will make the job easier for both of you.
If a person must shovel snow, be sure to know the warning signs of a heart attack. It could be lifesaving. The most common heart attack symptom for men is chest pain or discomfort. Most heart attacks involve discomfort in the center of the chest that lasts more than a few minutes, or it may go away and then come back. It can feel like uncomfortable pressure, squeezing, fullness or pain.
Another symptom is shortness of breath. This can occur with or without chest discomfort. Other signs may include sweating, nausea, light-headedness or indigestion. The list above does not cover all symptoms people have during a heart attack.
People should call 911 and seek medical attention immediately if they are having any of these symptoms.
This story featured was a part of a special edition of health enews focused towards men's health topics. To learn more about men's health and Advocate's mission to help make health a priority for the important men in our lives, please visit ManUpAtAdvocate.com. On the site, men can also make same-day appointments, find helpful tips and screening information and also find a doctor.
Related Posts
Comments
About the Author
Dr. Siddharth Gandhi is an interventional cardiologist with Advocate Heart Institute. He sees patients at Advocate BroMenn Medical Center in Normal, Ill., and Advocate Eureka Hospital in Eureka, Ill.