Can healthy foods make you overweight?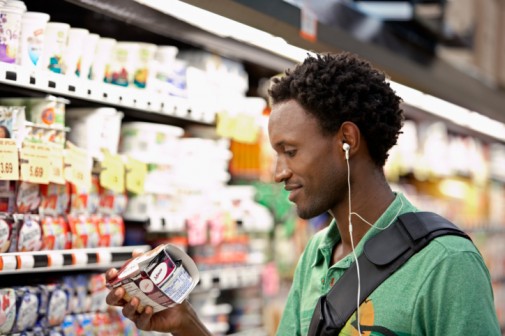 When it comes to eating healthy, is it possible for there to be too much of a good thing?
A recent study, published in the Journal of the Association for Consumer Research, examined overconsumption of foods labeled as "healthy." This commonly occurs because many people believe "healthy" foods are less filling, so they tend to eat more than the recommended serving size.
Researchers determined that consumers' food choices are largely based on the front-of-package nutritional scale. If this portrayed the food as healthy, study participants tended to eat larger portions of the food and report lower hunger levels after eating it.
This raises the question, are healthy food labels potentially contributing to the obesity epidemic rather than reducing it? Because of this, researchers suggested turning to foods portrayed as nourishing rather than healthy when people are looking to feel full without overeating.
Hannah Diamond, a registered dietitian at Advocate Christ Medical Center in Oak Lawn, Ill., says the study is a good reminder of the importance of mindful eating.
"In our diet-conscious society, we often place high value on the functionality of food and less value on the enjoyment of it," she says. "Food is no longer perceived as something that nourishes both the mind and body, but as something that is good or bad, healthy or unhealthy, and anything but enjoyable. To some, healthy no longer equates to nourishing and has instead become synonymous with deprivation."
Diamond says foods labeled as sugar-free, gluten-free, fat-free or even organic seem to have a halo effect, meaning consumers often believe these foods are healthier because of the description on their packaging. But, things such as granola and granola bars, sugar-free sweets, pre-packaged gluten-free and organic items, may not be as nutritious as one might think.
"Processed foods are often high in sugars and carbohydrates, contain several artificial ingredients and tend to be eaten in larger portions," says Dr. Armand Krikorian, an internal medicine program director at Advocate Christ Medical Center. "For most people, this leads to poor nutrition and higher risk for obesity and diabetes."
Instead of turning to these options, reach for foods containing fiber, fat and protein, which Diamond says tend to keep people full for longer periods of time.
"Incorporating whole fruits, vegetables, beans and whole grains into meals can have a satiating effect due to their fiber content," she says. "Try small portions of nuts, seeds, oils like olive and canola, and lean cuts of chicken, beef, pork and fish, which contain fat and protein that also help keep us full."
Diamond urges consumers to read the nutrition facts label, not just the front of the package. Those uncertain how to interpret these labels can visit ChooseMyPlate.gov.
Related Posts
Comments
About the Author
Holly Brenza, health enews contributor, is the public affairs coordinator at Advocate Children's Hospital. She is a graduate of the University of Illinois at Chicago. In her free time, Holly enjoys reading, watching the White Sox and Blackhawks, playing with her dog, Bear and running her cats' Instagram account, @strangefurthings.