3 tips to bring your run indoors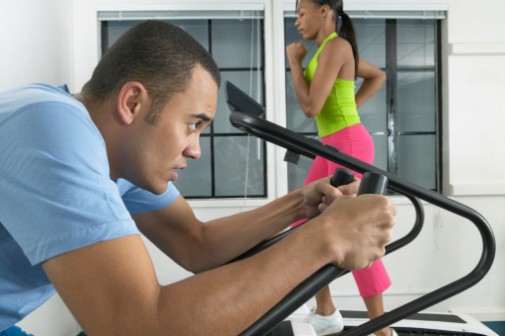 As frigid temperatures take hold of Chicago, even the most dedicated runners have reluctantly abandoned their scenic outdoor running routes for the treadmill.
"Chicago is such a great city to exercise in outdoors for a good chunk of the year," says Dr. Charles Crotteau, family medicine physician with Advocate Illinois Masonic Medical Center and marathoner in Chicago. "I encourage my patients to run outside as much and for as long as they can, layering their clothes effectively as the temperature changes."
Dr. Crotteau says there's no reason the change of seasons should stop you from getting your run. But often it can be difficult to move your run to the treadmill, because running in the open air can be seen as more motivating.
"Outside, you're actually going somewhere," he says. "You can measure the distance and enjoy the scenery. Running on a treadmill can get to be a bit tedious."
When moving your workout indoors, Dr. Crotteau says there are three key items to keep in mind: planning, surface and resistance.
Planning—When running on the treadmill, you'll need fewer layers of clothing. However, you'll also need to pack accordingly for the gym—a change of clothes, a towel or two, etc. And you'll need to be conscious of the need for additional hydration, as dry indoor air can increase the need for water and be more challenging to your upper airway. "You may forget how quickly you dry out inside as compared to outdoors," he says.
Surface—When swapping concrete for the treadmill, you'll need to adapt to the "springy or bouncy" nature of the equipment. This give can be more forgiving than the cold pavement, but it won't prepare you as well when training for a half or full marathon. However, the treadmill can be easier on your joints, such as your knees, so using it when coming back from an injury can be beneficial.
Resistance—Running outside, there is natural wind resistance and slopes and hills that increase your workout. To compensate on the treadmill, consider speed work and interval training. Working on increasing your speed indoors will challenge and shorten your workout. And interval training works to improve your top-end speed. Both will have dividends by alleviating possible boredom and improving your times when the spring thaw allows you to move back outdoors. Increasing the treadmill's incline will simulate changing physical landscapes outdoors and add resistance to your run—something that may be lacking in a run on Chicago's flat terrain. 
Dr. Crotteau says training on a treadmill can "take you out of your comfort zone," allowing you to work on new strengths, such as speed and endurance.
"Personally, I try to run outdoors for as long as I can," Dr. Crotteau says. "When it gets icy, snowy and frigid, it can be dangerous. But running just a few times a week can do your heart good and lengthen your life. And running on the treadmill can definitely be more convenient—you'll be warm, you can watch TV and there are no 'soakers' (slushy puddles) to run through."
And remember—spring is just around the corner.
Related Posts
Comments
About the Author
health enews staff is a group of experienced writers from our Advocate Health Care and Aurora Health Care sites, which also includes freelance or intern writers.