Tiny device helps heart failure patient take control of his health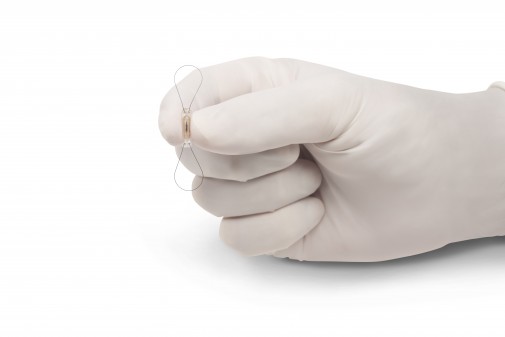 Leonard Johanson considers himself a very compliant patient, but his heart failure was still getting worse.
Heart failure occurs when the heart is unable to pump enough blood to meet the body's demand, according to the U.S. Centers for Disease Control and Prevention. More than 5.1 million Americans have heart failure, with 670,000 new cases diagnosed each year.
As is the case with many heart failure patients, Johanson has problems with water retention in his body, which has required several trips to the hospital and taking diuretics, or water pills.
"I have been taking water pills for years, but always have had problems controlling my water retention," says Johanson, 64. "I got to the point where I was regulating it pretty well, but every once in a while I would let it go too long, and end up back in the hospital."
During this time when his condition was worsening, the Advocate Heart Institute at Sherman Hospital in Elgin, Ill., became one of the first facilities in the Chicagoland area to begin using a heart failure monitoring device that has proven to significantly reduce hospital admissions. The CardioMEMS HF System is also approved by the U.S. Food and Drug Administration.
Johanson later became the first patient at Advocate Sherman Hospital to be implanted with the miniaturized, wireless monitoring sensor to manage his heart failure.
"The system is keeping him out of the hospital," says Dr. Richard Park, a cardiologist at the Advocate Heart Institute at Sherman Hospital. "It is doing what it is supposed to do, and preventing terrible things from happening."
The system features a sensor that is implanted in the pulmonary artery during a non-surgical procedure to directly measure pulmonary artery pressure, according to St. Jude Medical, Inc. Increased pressures appear before weight and blood pressure changes, which are often used as indirect measures of worsening heart failure.
Patients are able to transmit daily sensor readings from their homes to their health care providers, which allows for a personalized and proactive management to reduced hospitalization.
"It's sure making me feel good," says Johanson, a Hoffman Estates, Ill., resident. "The sensor measures how much fluid is in my lung and air passages, but also gives me a reading every day by laying down on a pad. If it climbs, I need more water pills.
"When that is the case, without the liquid fluid in my body, I feel so much better," says Johanson. "Before, I was really down and out when I got overloaded. Now, I have longer periods of me time. With the sensor, I don't get the heavy fluid in my body anymore. It's controlled by the medicine and the readings."
Dr. Park agrees that the device let's patients take control of their health.
"It's wonderful for this patient, but it may not be for everyone," he says. "People who are compliant, this process is very motivating because they control their own destiny. You get scanned, get your numbers and have non-bias information to help you get treatment."
Do you know your risk for heart disease? Take Advocate Heart Institute's heart risk assessment here. If you are at high risk, see one of Advocate Heart Institute's cardiologists within 24 hours.
Photo Credit: St. Jude Medical
Related Posts
Comments
About the Author
health enews staff is a group of experienced writers from our Advocate Aurora Health sites, which also includes freelance or intern writers.