Cheaper fruits and vegetables could lead to healthier people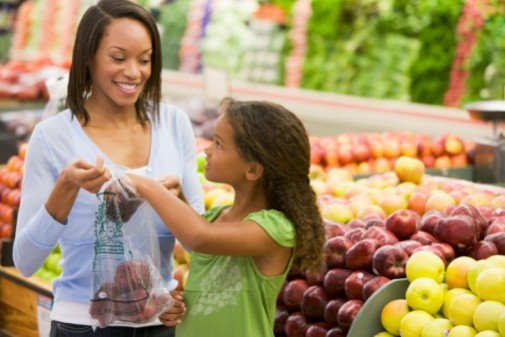 Just in time for National Nutrition Month, a new study predicts that lowering the cost of fruits and vegetables could have a very positive impact on the health of many Americans.
Researchers at Harvard and Tufts Universities developed a computer model to help make these projections on the effects of lowering the price and the health outcomes. The results found that small price changes could prevent 515,000 deaths from cardiovascular disease and stop nearly 675,000 heart attacks, strokes and other negative health events according to the news release.
More specifically, the release suggests that if the price of fruits and vegetables was reduced by ten percent:
Death from cardiovascular disease could be reduced by 1.2 percent within five years and by nearly two percent within 20 years.
Heart attacks could decrease by 2.6 percent over 20 years.
Strokes could decrease by 4.0 percent over 20 years.
If the price of sugary drinks was increased by ten percent:
Deaths from cardiovascular disease could decrease by nearly 0.1 percent within five years and by 0.12 percent within 20 years.
Heart attacks could decrease by 0.25 percent within five years.
Strokes could decrease by 0.17 percent in twenty years.
Diabetes could decrease by 0.2 percent in five years and 0.7 percent in 20 years.
"Lowering the price of fruits and veggies and increasing the cost of junk food would very likely encourage more people to make healthier choices, but it's not a complete solution," says Alisa Oler, a registered dietitian at Advocate Illinois Masonic Medical Center in Chicago. "While it would expand healthy options for those on a tight budget, the public still needs to be educated about what they're choosing to consume."
To shop smarter and healthier on a budget, Oler offers the following recommendations:
Shop the perimeter of the grocery store where you'll find produce, dairy, fresh meat and fish. Avoid going into the middle for things like chips and candy.
Try visiting a local farmer's market. The food often spends less time in transit and therefore may be less expensive and retain more nutrients.
If fresh produce is difficult to purchase due to cost or because it might spoil before use, buy frozen fruits and vegetables instead. Fruits and vegetables are usually frozen at the peak of freshness to retain nutrient content and won't have added salt and preservatives like you might find in canned foods.
If you need to buy canned foods, look for options low in sodium with no added sugar. Try to rinse the foods before you consume them.
Look for foods containing a short list of ingredients; these tend to be less processed.
Make a list before you go to the store and avoid shopping when you're hungry. This helps avoid impulse purchases which tend to have little, if any, nutritional value.
Related Posts
Comments
About the Author
health enews staff is a group of experienced writers from our Advocate Aurora Health sites, which also includes freelance or intern writers.