A healthy lifestyle may improve symptoms for kids with ADHD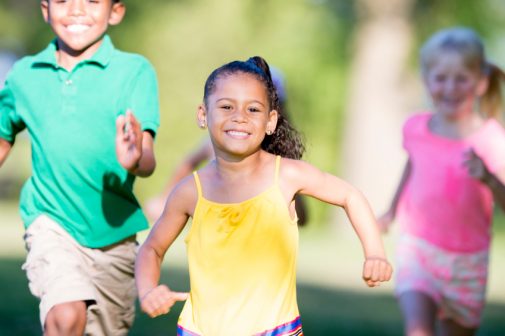 Making healthy lifestyle choices is crucial for kids. The American Academy of Pediatrics, the National Sleep Foundation and the U.S. Department of Agriculture all agree and suggest that children ages 7-11 should follow recommended healthy lifestyle choices including:
No more than one to two hours of screen time daily
At least one hour of physical activity per day
Limited consumption of beverages with sugar
Sleeping for 9-11 hours per night
Drinking 7-10 cups of water per day
Yet, a new study published in the Journal of Attention Disorders found that children with ADHD are falling short when it comes to abiding by these recommendations. In fact, they are almost twice as likely to engage in fewer healthy lifestyle behaviors than kids that don't have ADHD.
Researchers studied 288 children total, 184 with ADHD and 104 without. Parents of the children were given a questionnaire asking about how much water their kids drink, if they take multivitamins, how often they read and watch TV, and how much physical activity and sleep they get. They discovered that the children with ADHD were less likely to follow the recommendations and participate in healthy lifestyle choices.
"Attention deficit hyperactivity disorder, or ADHD, is one of the most common neurodevelopmental disorders, or disorders that begins in early childhood and lasts a person's lifespan," says Dr. Danielle Baran, a psychologist at Advocate Children's Hospital in Park Ridge, Ill. "Most people think of kids with ADHD as those that have problems paying attention and staying still. However, it also involves many more challenges, such as being able to control one's emotions, being able to mentally manipulate information easily, start new tasks, shift one's attention and delay gratification."
Dr. Baran explains that in order to exercise, there are multiple steps that a child needs to take, such as putting on clothing, shoes and choosing an activity. In order to engage in watching a monitor, one must turn on a monitor and watch. "In other words, there are multiple steps to exercising, it is not immediately rewarding and it takes a lot of effort. In order to watch television or a screen, there are fewer steps, it is immediately rewarding and takes almost no effort at all," says Dr. Baran. "These behaviors can lead to more obvious consequences like weight gain, but they can also result in less obvious consequences, like more challenges with planning, prioritizing and organizing tasks."
It's important that future research is done on the topic to determine how effective better lifestyle choices are in helping with ADHD symptoms.
"Healthy lifestyle choices require planning, grit and determination, all goal-directed activities," agrees Dr. Marjorie A. Getz, learning and behavior specialist at the Center for Developmental and Behavioral Pediatrics at Advocate Children's Hospital in Park Ridge, Ill. "Individuals with ADHD have differences in their brains that impact their use of skills that support goal-directed activities. Parents and children can work together to find fun ways to promote perseverance in pursuing healthy lifestyle choices for children with ADHD."
Related Posts
Comments
About the Author
health enews staff is a group of experienced writers from our Advocate Health Care and Aurora Health Care sites, which also includes freelance or intern writers.