These two factors can triple your risk for depression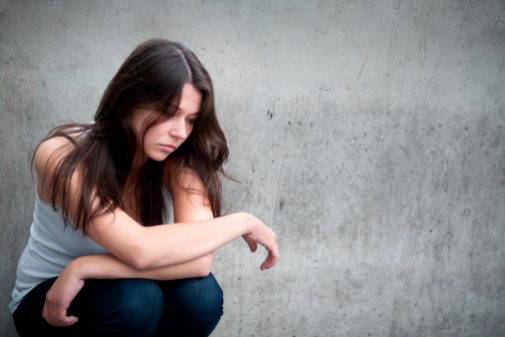 Children whose parents and grandparents suffer from depression are three times more likely to develop the mental illness, according to new research.
The groundbreaking research from Columbia University and New York State Psychiatric Institute revealed that depression can span generations. It was previously thought that depression could be passed from a parent to a child, but this new study showed that grandparents' depression can impact not only their children, but grandchildren as well.
"In this study, biological offspring with two previous generations affected with major depression were at highest risk for major depression," concluded the research team, led by Myrna Weissman, PhD, of Columbia University.
It is estimated that 15 million Americans struggle with depression, according to the American Psychiatric Association. Depression causes feelings of sadness and loss of interest in activities, which can decrease a person's ability to function at home and at work.
During the study, researchers interviewed 62 families (including children, parents and grandparents) periodically during a 30-year time span between 1982 and 2015.
The results revealed that children whose parents suffered from depression were twice as likely to develop the same illness. They were also at a higher risk for disruptive disorder, addiction, suicidal thoughts and attempts and poorer functioning.
In addition, the risk of suffering from major depression tripled for children who had a depressed parent and depressed grandparent.
"It is a major finding that there was a threefold risk of having depression if two previous generations also had depression," said Weissman.
Dr. Maleeha Ahsan, psychiatrist at Advocate Good Samaritan Hospital, Downers Grove, Ill. says symptoms of depression can vary and aren't the same for everyone.
"Depression and mental illness can come in a variety of forms, such as intense fears, anxiety, low self-esteem, extreme mood swings, eating too much or not enough, drinking more alcohol or caffeine or taking more prescription medication than is directed," says Ahsan. "That's why it's important to educate yourself about the symptoms and have at-risk children screened on a regular basis."
Dr. Ahsan says that if depression runs in a family, early intervention may be the key to stopping the cycle and preventing depression in at-risk children.
"Depression doesn't have to be passed down from one generation to the next. Instead, treatment is available to help individuals and families cope with the effects of depression. We can provide parents and children tools and coping mechanisms to better deal with life's stressors," she says.
Related Posts
Comments
About the Author
Johnna Kelly, healthe news contributor, is a manager of public affairs and marketing at Advocate Christ Medical Center in Oak Lawn. She is a former newspaper reporter and spent nearly 10 years as a public relations professional working for state and county government. During her time as a communications staffer for the Illinois General Assembly, she was integral in drafting and passing legislation creating Andrea's Law, the nation's first murderer registry. In her spare time, she volunteers at a local homeless shelter, enjoys traveling, photography and watching the Chicago Bulls.