This common habit could be adding over 500 calories to your daily intake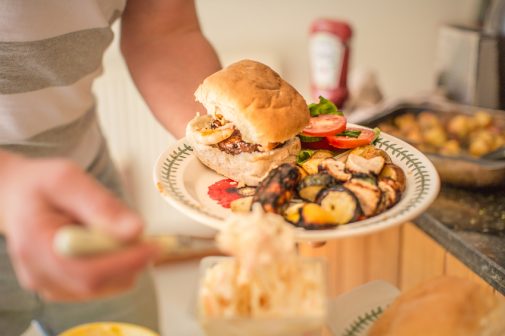 If you're part of the large contingency of people who feel like they have to "clean their plate" at every meal, you might want to take note. Your habit – that likely has been ingrained since you were a kid – could be adding to your waistline in a big way. In fact, one study found that dinner plates that resemble serving platters and the large bowls at your favorite restaurant are causing people to eat much more than they realize.
The review from the University of Cambridge looked at the way portions, packages and tableware influenced eating habits. Researchers examined data from 61 previous studies with thousands of participants and found that due to large portions from packages and dishes, Americans eat between 22 and 29 percent more than they would otherwise. They said this amounted to approximately 527 additional calories each day.
"Bigger plates and larger packages cause people to eat more because of the Delbouf Illusion," says Jamie Portnoy, a dietitian with Advocate Weight Management in Libertyville, Ill. "This is an optical illusion of relative size perception that causes us to see different sizes depending on the external reference we are comparing it to."
As a result of these findings, researchers said steps should be taken to reduce the size, availability or appeal of larger sized portions, packages and tableware.
"Our findings highlight the important role of environmental influences on food consumption," study co-author Dr. Gareth Hollands said in a news release. "Helping people to avoid 'overserving' themselves or others with larger portions of food or drink by reducing their size, availability and appeal in shops, restaurants and in the home is likely to be a good way of helping lots of people to reduce their risk of overeating."
In order to prevent overeating, Portnoy offers the following tips:
At home: When you come home from the grocery store, set aside all of your packaged food such as chips, pretzels and nuts. Then portion them into serving size bags. This can be also done for vegetables by creating snack packs that are healthy, easy and accessible.
At a restaurant: Restaurants tend to give you double or triple portions of food, so sharing food is a cost-effective option to avoid overeating. You can also ask for a "to-go" box right away, place half your meal into the box immediately and set it aside or order an appetizer as a main course.
At a party or buffet: Use an appetizer or salad plate rather than a dinner plate, since they tend to be much smaller.
While buying 100-calorie packs in order to control calories may seem like a good idea, Portnoy says it's important to focus on the whole label, including calories, fat, carbohydrates and serving size.
"One-hundred-calorie packs are not the greatest snacks," she says. "Better options are always going to be things such as fruits and vegetables. I would recommend that as a snack because they tend to have more nutrients and less fat, calories and sugar."
Related Posts
Comments
About the Author
health enews staff is a group of experienced writers from our Advocate Aurora Health sites, which also includes freelance or intern writers.