3 signs you're on the verge of burnout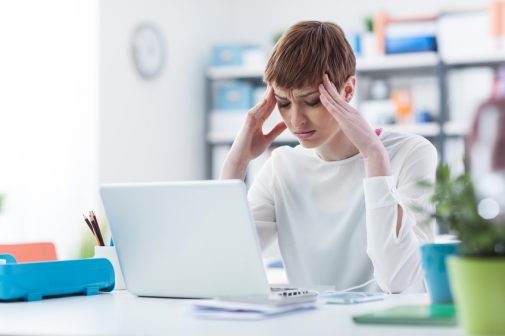 With today's fast paced lifestyle, many people find themselves feeling occasionally overwhelmed and stressed. Too much stress, however, can lead to emotional burnout, so it's important to recognize the signs.
"The key to good health is maintaining a healthy balance and trying to take on only what you can reasonably handle," says Dr. Nirav Chudgar, an internal medicine physician on staff at Advocate South Suburban Hospital in Hazel Crest, Ill. "Of course, we don't always have a choice in the matter. In that case, it's important to recognize when we are overwhelmed and to try to make time for self-care whenever possible."
Difficulty sleeping
If you're having trouble falling asleep, anxiety may be at fault. Many find themselves lying awake at night, mentally reviewing their "to do" lists or worrying about things they can't control. Unfortunately, this can create a vicious cycle, as sleep deprivation can make anxiety worse.
"Feeling stressed and missing sleep can lead to increased health risks, including a higher chance of having a stroke, hypertension and diabetes. So it's important to try and get enough," says Dr. Chudgar. "Exercise can be a big help, if you can make the time for it. If you're not into fitness, play a game that gets you moving, which can be fun and an incentive to exercise."
Depression
Excessive stress can wear on the body, even if you're getting enough sleep. People at risk of burnout may often feel tired or apathetic and face a higher risk of depression.
"This time of year can be especially tricky," says Dr. Chudgar. "As we get ready to start the holiday season, it's easy to become overwhelmed. People are also at a higher risk for seasonal affective disorder in the fall and winter months."
Forgetfulness and brain fog
If you're finding it difficult to concentrate at work or at home, or are having trouble remembering things, your body may be telling you to reduce your stress level.
"Stress can impair your ability to perform your usual tasks," says Dr. Chudgar. "If you find yourself scatterbrained at work or forgetting important tasks, try to take a step back and re-evaluate what's going on in your life. Are there any commitments you can let go of or tasks you can assign to someone else at home or at work?"
Dr. Chudgar says it's normal for people to have ups and downs, depending on what is going on in their lives. If anxiety or depression is having a large impact on your life, however, it's important that you see your doctor to discuss treatment.
"Creating positive habits and maintaining a healthy lifestyle can prevent a lot of health problems, but sometimes medical intervention is the key to wellness," he says.
Related Posts
Comments
About the Author
health enews staff is a group of experienced writers from our Advocate Health Care and Aurora Health Care sites, which also includes freelance or intern writers.