Top Chef committed to creating healthy options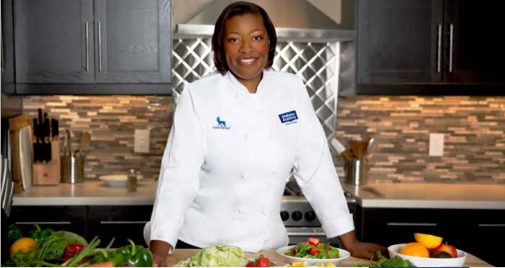 Hello, I'm Chef Tiffany Derry. I began my culinary career at IHOP at the age of fifteen. And, even then, I wanted to be in the kitchen, but was told that women do not work in the kitchen. So, I watched and waited for my opportunity. After a few months, and a kitchen staff member calling in sick, I received my chance and have never left!
After travelling the world to improve my culinary skills and appearing on TV shows such as Top Chef and Bar Rescue, hosting Hungry Investors, and judging Chopped Junior, I now serve as Ambassador for Novo Nordisk and am committed to creating healthy options for those with diabetes.
I am very excited I will be doing a healthy cooking demonstration at Advocate Lutheran General Hospital in Park Ridge, Ill. and Advocate Christ Medical Center in Oak Lawn, Ill. this week. There I will share two of my favorite recipes – Cauliflower Salad and Mediterranean Chicken Stew. For a sneak peak, I'll share the cauliflower salad recipe now.
This is a perfect salad to mix things up. The cauliflower is raw and crunchy, the pistachios add nuttiness and the citrus brightens up the dish.   It's also great to make in advance, as the flavors just keep developing.
Here is the cauliflower salad recipe (one of my favorites!):
Ingredients
1 head cauliflower, sliced thin
1 cup red bell pepper, sliced thin
¼ cup green onions, sliced
½ cup parsley, chopped
¼ cup pistachios
2 T orange juice
1 T lemon juice
1/8 cup extra virgin olive oil
1 T vinegar
2 T dried cherries
¾ t salt
1 T black pepper
Directions
Mix all ingredients together and set aside in refrigerator or room temperature if serving soon.
Nutrition Facts per Serving
Calories         121
Total Fat 7.4 g
Saturated Fat 1.0 g
Cholesterol 0
Sodium 451 mg
Total Carbohydrates 13.4 g
Dietary Fiber 4.7 g
Sugars 4.4 g
Protein 3.2 g
Vitamin A 19 %
Vitamin C 187 %
Iron 10 %
* Based upon a 2,000 calorie diet
For more information about my demonstrations this week at Christ Medical Center and Lutheran General Hospital, check out the hospitals' Facebook pages!
Related Posts
Comments
About the Author
Tiffany Derry, appeared on Bravo's "Top Chef," where she was voted fan favorite in Season 7. Her recognition earned her a spot as a contestant on "Top Chef All-Stars," where she made it to the final-four round. Derry's career as a chef started in Dallas, Texas, where she built her TD Concepts brand and company from the ground up. With a personal family connection to diabetes, Tiffany has also made it her mission to educate people about healthy lifestyles and portion control. In blending nutrition with flavor, Tiffany stands by one rule in her kitchen, "make it taste good or forget it!"