Is breakfast really the key to your weight loss?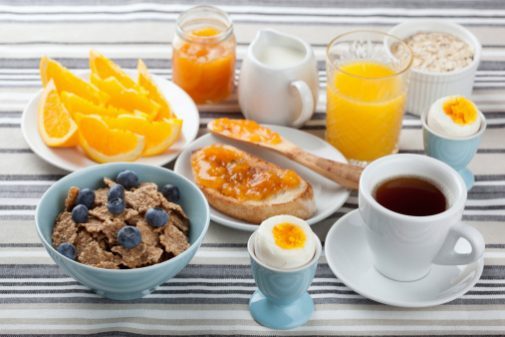 Breakfast has long been known as "the most important meal of the day." In fact, many diets recommend eating a hearty breakfast even if you want to lose weight. But should you really eat if you're not hungry? And does research actually support the "need" for breakfast?
While many studies have been done, the link between breakfast and losing weight is a weak one at best.
In terms of health benefits, one study done by the Harvard School of Public Health and Harvard Medical School found that men who skipped breakfast had a 27 percent higher risk of coronary heart disease compared to men who didn't.
Another review published in the American Journal of Clinical Nutrition analyzed 58 published studies about the effects of breakfast on obesity. But the conclusions were mixed. They found that only one study conducted in the early 1990s really tested the effects of skipping or eating breakfast on losing weight. Researchers studied several moderately obese women between the ages of 18 and 55 and had them follow a 12 week weight loss program. They split them into two groups. One group had two meals a day, with no breakfast and the other group had three meals a day. Both groups ate the same amount of calories total each day.
Interestingly, they found the results depended on whether the woman ate breakfast before the study began. Women who skipped breakfast lost more weight when they started eating it. Women who were used to eating breakfast before lost more weight when they skipped the meal. They concluded that the women who changed their habits lost weight and the actual breakfast wasn't the determining factor.
Rosemary Mueller, a registered dietitian at Advocate Medical Group Weight Management in Park Ridge, Ill., explains why she believes there is a disconnect.
"This recommendation [to eat a nutrient-dense breakfast] was made by the Dietary Guidelines Advisory Committee after reviewing numerous observational studies, which researchers generally acknowledge are weaker than true experiments or randomized, controlled trials," she says. "There was indeed modest evidence that children who do not eat breakfast are at increased risk of being overweight and even stronger evidence for adolescents. The criticism by some health statisticians has to do with the limited direct evidence of application to adults."
So, should you or shouldn't you eat "the most important meal of the day?"
Mueller says regardless of these criticisms, the answer is you should. "Breakfast has strong benefits: for the provision of important nutrients, to better regulate blood glucose levels, control appetite and to provide sources of fiber, calcium and protein," she argues.
In terms of weight loss, she endorses small, frequent nutrient-dense meals with protein to help control appetite.
The bottom line: "Eat breakfast, but watch what your breakfast contains," she says. "Resist 'just coffee and that pastry or donut.' Try an egg-white/veggie omelet, whole grain cereal, low-fat milk and fruit or a breakfast smoothie made from low-fat yogurt, fresh fruit and/or veggies and little bit of flax."
Related Posts
Comments
About the Author
Jacqueline Hughes is a former manager, media relations at Advocate Aurora Health. Previously, she was the public affairs and marketing manager at Advocate Lutheran General Hospital in Park Ridge, IL. She earned her BA in psychology at Stanford University in Palo Alto, California. Jackie has 10 plus years experience working in television and media and most recently worked at NBC 5 in Chicago. In her free time, she enjoys swimming, going to the movies and spending time with her family.