5 ways to foster the spirit of giving back this holiday season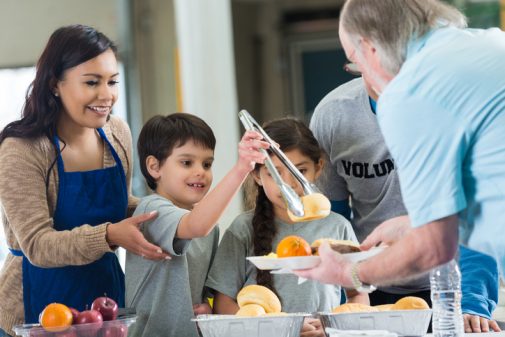 Although this is the season of giving, it can be easy to lose the spirit of giving back during the holidays. We get lost in a sea of consumerism, rushing around shopping feverishly to satisfy mile-long holiday wish lists. It quickly becomes a slippery slope.
"There are many ways to show love for family, friends or ourselves, and sometimes it's just easy to buy. We get caught up in thinking that's the only way to show love," says Rev. Stacey Jutila, vice president of mission and spiritual care for Advocate Children's Hospital. "Sometimes we get a false sense that we get happiness from material goods more than we do," she adds.
However, the constant product-driven frenzy can really take away from quality experiences together, says Rev. Jutila. Instead, why not create some time with your family this holiday to celebrate what the season is really about—exploring new ways to give to one another as well as to your community.
Here are five ways to foster the spirit of giving back this holiday season:
No. 1: Celebrate family traditions
When families gather, many stories get told and retold, which may serve as fertile ground for creating traditions. The next time you gather, take a poll to find out what traditions resonate with family members.
Perhaps it's activities such as tree trimming as a group, or maybe the discussion will lead to creating some new traditions. "I've heard of families that have favorite Christmas movies or books, and they wrap them up and give one a day throughout the holiday season," says Rev. Jutila.
Here are some suggestions for family traditions from Parents.com:
Bake cookies with the kids
Take a holiday picture together
Go caroling at a nursing home or shelter
Family traditions can also mean cultivating religious and cultural traditions as well. "One beauty of the religious and cultural traditions for Hanukkah, Christmas and Kwanzaa is an opportunity to explore and enter into many rituals in the home. For example, lighting candles at the dinner table and joining in a time of prayer and reflection, whether it be the menorah or advent candles," says Rev. Jutila.
No. 2: Make a wish list or gratitude list
Instead of a wish list of gifts, encourage your children to create a wish list of hopes for family members, friends and people worldwide. You can start with something like, "If you were granted 10 wishes, how would you spend them on other people?" Write a list of your own as it may help renew your spirit as well.
You could also create a gratitude list where everyone in the family writes down things he or she is grateful for. When you are thankful for what you have in the present, you are less inclined to worry about what you may feel you're lacking.
No. 3: Make meaningful gifts
Store-bought gifts can be nice, but ones that are made give the gift a special meaning. Unique gifts that families can make together include:
Photo albums of family get-togethers
Care packages to soldiers overseas
Custom handmade ornaments
Handcrafted gift wrap paper
Rev. Jutila says if money is a challenge, "Think of giving experience gifts, such as 'I will serve you breakfast in bed on a Saturday morning.' Give gifts of family or time, and a child can participate as well."
No. 4: Donate (stuff and time)
One of the easiest ways to give back is to donate things you no longer need as well as your time. Before your children receive new toys, have them go through their box of old toys that haven't been played with in a while and let them choose which ones to donate to children who may not have any toys. As a family, you can also look for a soup kitchen in your community and spend a day together serving a meal to others.
No. 5: Create meals together or bake
The chilly winter months and the holidays provide the perfect backdrop for warm home cooking and yummy baked goods. Consider creating meals that can be delivered to those who are sick and shut-in or who may not have family to cook for them.
You can also have a baking party where everyone brings different ingredients and holiday bags, which can be made into gifts for friends and neighbors or even dropped off at a nearby shelter.
However you choose to celebrate this holiday season, remember to participate in gratitude and thoughtfulness to help underscore what really matters this holiday season. It's not a race, Rev. Jutila reminds us. "It's a season; it's not just one day. It's important to really think of how we want to live throughout the season," she says.
Related Posts
Comments
About the Author
health enews staff is a group of experienced writers from our Advocate Health Care and Aurora Health Care sites, which also includes freelance or intern writers.