Shoppers beware of these 4 health hazards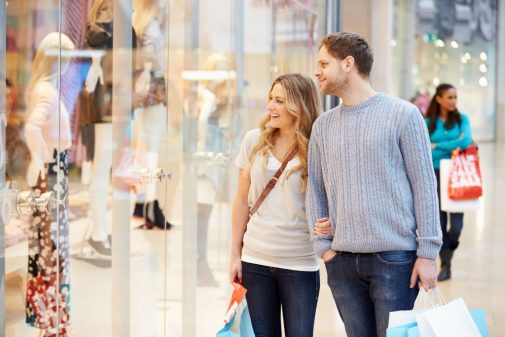 For many, the holiday season means lots of shopping. And somewhere between Black Friday and Cyber Monday, you may have found yourself wondering are there better details in-store or online. But have you ever considered which is healthier for you?
In general, "retail therapy can sometimes be the best form of therapy; it can have a profound effect on a person's health," agree Advocate Christ Medical Center Internal Medicine Chief Residents Drs. Sarah Sarfraz, Sheela Metgud and Aleida Rodriguez.
The physicians see a better outcome—health-related and otherwise—from in-store shopping. "A major benefit of shopping at a mall or store is that you get your steps in," say the physicians, "not to mention the fact that many times, you will find options in the store that are not available online—especially in the clearance section!"
But buyer beware—there are still health hazards waiting for you among the racks.
The physicians urge you to reduce the risk of acquiring an infection by practicing proper hand hygiene while out in public, which can be done by washing hands before eating and after using the restroom. They also advise to avoid touching your hands to your face, and try to always carry hand sanitizer with you. When you get home from shopping, be sure to wash your hands again to limit the germs you bring home.
The physicians recommend the following tips before heading out to shop 'til you drop:
Don't shop on an empty stomach. You don't want to become hypoglycemic, which occurs when your blood sugar is low, and have the urge to eat something unhealthy. By eating prior to hitting the stores, you are more likely to successfully avoid the fried and salty temptations in the food court. Bring along a water bottle and healthy trail mix to curb the low glucose-induced cravings.
Wear comfortable shoes. Make sure you are wearing the proper footwear to avoid pain and eventual injury after long-term poor decision-making regarding shoes.
Stick to an indoor shopping center during the cold, winter months. According to the Centers for Disease Control and Prevention, when your body is exposed to cold temperatures, it begins to lose heat much faster than it can be produced, and prolonged exposure to cold will utilize all of your body's stored energy, potentially leading to hypothermia.
Carry no more than 5-10 pounds at a time. "Put down those five pairs of shoes, multiple dresses and Corningware sets you are attempting to lift! If you are planning to shop for anything heavier than 5-10 pounds, please bring a cart or trolley to carry your things," say the physicians.
Related Posts
Comments
About the Author
Holly Brenza, health enews contributor, is a public affairs coordinator on the content team at Advocate Health Care and Aurora Health Care. She is a graduate of the University of Illinois at Chicago. In her free time, Holly enjoys reading, watching the White Sox and Blackhawks, playing with her dog, Bear and running her cats' Instagram account, @strangefurthings.