Relief is on the way for people with restless leg syndrome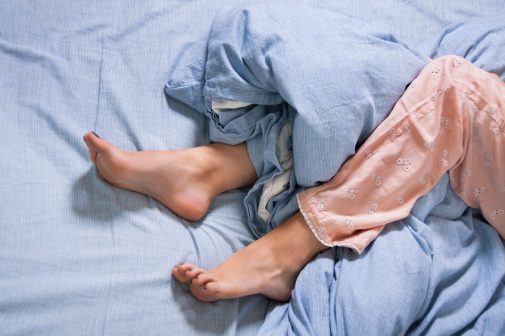 With as much as 10 percent of the U.S. population suffering from restless leg syndrome (RLS), according to the National Institute of Neurological Disorders and Stroke, those affected are often looking for new treatment options. And while there are pharmaceutical options, many of the drugs prescribed to manage the symptoms of RLS have negative side effects.
But there may be some relief in the future for patients with RLS that doesn't involve prescriptions. One trial found an adjustable foot wrap was more effective than standard drug treatments.
Restless leg syndrome is a neurological disorder that causes throbbing or unpleasant sensations in the legs that may cause uncontrollable movement. Symptoms of RLS typically occur at night or while resting. This causes exhaustion and daytime fatigue due to lack of continuous sleep and rest.
The eight-week trial published in The Journal of the American Osteopathic Association involved 30 healthy adults with moderate to severe restless leg syndrome. Participants tested a RLS device that was designed to put adjustable target pressure on two muscles in the foot to relax symptoms of RLS through an adjustable foot wrap.
The research showed that the pressure produced by the wrap caused a dopamine release similar to massage therapy or acupressure. They found that the device was 1.4 times more effective than the standard pharmaceutical treatment for restless leg syndrome.
"By putting pressure on specific muscles in the feet, we are able to create a response in the brain that relaxes the muscles activated during RLS," said Phyllis Kuhn, MS, PhD, the study's lead researcher. "It's a near perfect example of the body regulating itself without drugs, many of which have the potential for significant adverse side effects."
Dr. Tony Hampton, a family medicine physician with Advocate Medical Group, says the findings are promising.
"This is an important development since so many patients are interested in non-medication options due to concerns over the many possible side effects," says Dr. Hampton. "The use of this device to stimulate dopamine release in a more natural way will likely make patients more comfortable using this as a medical intervention and will attract lots of attention from patients and clinicians alike."
Dr. Hampton says you likely have RLS if you have:
Strong, often irresistible urge to move your legs, usually accompanied by uncomfortable sensations described as crawling, creeping, cramping, tingling or pulling
Symptoms that start or get worse when sitting or lying down
Symptoms that are partially or temporarily relieved by activity, such as walking or stretching
Symptoms that are typically worse at night
Related Posts
Comments
About the Author
Tiffany Nguyen, health enews contributor, is a public affairs and marketing intern at Advocate Support Centers in Downers Grove, IL. She is a graduate of Northern Illinois University with a degree in public health. She is currently pursuing a Master's in Business Administration focusing specifically on healthcare management at Lewis University. Tiffany enjoys hanging out with her friends, exploring new restaurants, and binge watching Netflix shows.