A dog that can truly understand what patients are going through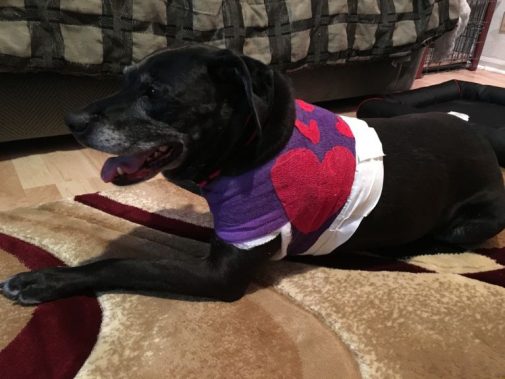 When Valerie Maloian and her dog Abbey visit the oncology floor on Saturday mornings, they are usually greeted by enthusiastic nurses and sometimes patients they saw the weekend before. This ten-year-old lab/boxer mix and her owner are not visitors, but the most recent recruits for Advocate Sherman Hospital's Animal Therapy program. However, they are quite familiar with cancer.
That's because Abbey is a cancer survivor, too.
One year ago, Valerie noticed there was a large lump on Abbey's front right paw. Concerned by its size and hardness, Valerie took Abbey to the vet the next day for a biopsy. Unfortunately, the test results found it was an aggressive, rare form of sarcoma, a group of malignant cancers that arise from the skin and connective tissues, such as fat, muscle, and cartilage.
According to the Sarcoma Alliance, sarcomas are more common in dogs and cats than in people, particularly in certain dog breeds and at feline injection sites. Approximately one out of every four dogs will die from cancer.
So Valerie and Abbey had only two options: try radiation to treat the tumor with possible reccurrence, or to amputate the leg to stop the cancer from having a chance to spread.
Valerie decided to amputate the leg to try and save her dog.
The surgery happened on February 9, 2016, but it barely slowed Abbey down. In fact, shortly thereafter, they went out around town and had an encounter that forever changed their lives.
"There was a gentleman in a wheelchair who had lost a leg. I heard someone call over to me and I turned around … and Abbey went right over to him," Valerie recounts.
The man's demeanor instantly changed as Abbey brushed up against the man. "That is when I knew I had to get Abbey animal therapy certified," she says.
After both of them took their tests and necessary shots, they joined an established team of dogs and animal therapy program at Sherman; where dogs and their handlers are allowed to sign up for regular volunteer shifts on the various units. Valerie and Abbey visit any oncology patient who wants them to stop by their room, easing the recovery process and ushering joy to the patients during this difficult time in their life.
Related Posts
Comments
About the Author
Jennifer Benson, health enews contributor, is coordinator of public affairs for Advocate Aurora Health. She has 10+ years of community development and communication experience for non-profits and has a BA in Architecture from Judson University in Elgin, IL. Outside of work, you can find her planning the next adventure near water or rocks, re-organizing spaces, working on her Master's in Public Health, caring for her senior citizen cat, keeping to healthy moving and eating disciplines and growing green things wherever she can find room.