Can a physician tell if you're at risk for diabetes by how you look?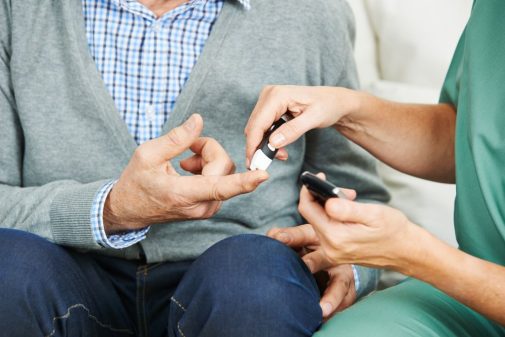 Without a physical examination or blood test, Dr. Julie Taylor, a family medicine physician at Advocate Trinity Hospital in Chicago, says she can simply look at her patients and determine if they are at risk for diabetes. How is this possible, you might ask?
Dr. Taylor says a dark ring around the neck (acanthosis nigricans) and excessive belly fat can both be signs the body is resisting insulin, the hormone needed to control blood sugar. Certain ethnicities raise another red flag for high glucose, Dr. Taylor says. Unchecked, diabetes can lead to visual impairment due to retinopathy and limb amputation resulting from peripheral vascular disease and neuropathy. And in the most severe cases, diabetes complications can progress to death.
The condition affects more than 29 million people in the United States, according to the American Diabetes Association (ADA).
"This is a very serious condition that people allow to spiral out of control,'' says Dr. Taylor, who considers it her mission to educate patients all year long – not just in November, which is American Diabetes Month. "I tell my patients they can manage it in many cases with lifestyle modifications like diet and exercise."
Diabetes, sometimes informally referred to as "sugar" or "sugar diabetes" because of high blood glucose (sugar) levels, presents in two ways.
Type 1 diabetes, formerly called juvenile diabetes, occurs when the body does not produce sufficient insulin. Type 2 diabetes is the most common form, occurring when the body does not use insulin properly or is insulin resistant.
The ADA reports Type 2 diabetes is growing at an epidemic rate, especially among youth. Compared to the general population, African Americans are disproportionately affected.
Dr. Taylor agrees and says other ethnic minorities are also affected at higher rates, like Latinos and those from some parts of India, because their traditional cultural diets are high in simple carbohydrates, which quickly break down into blood sugar.
Sedentary lifestyle and fatty foods are also common risk factors. You might ask yourself, how often do we grab a quick bite from the drive-thru on the way to Johnny's soccer game? "It's everywhere because of how we live,'' says Dr. Taylor. "Many of the patients I see either already have diabetes or are at risk."
She estimates 50 percent of her patients have blood sugar levels high enough to indicate diabetes. Most control their levels with diet and exercise and/or medication. Still, Dr. Taylor estimates 20 percent of her patients with diabetes are not controlling it at all, placing them at a risk for limb and/vision loss.
Regardless of where patients fall on the blood sugar spectrum, from pre-diabetes to full-blown diabetes, Dr. Taylor's message to help prevent the disease from progressing is the same:
Get Active. "Take the stairs instead of the elevator. Burn a few extra calories to help your body use insulin properly," Dr. Taylor coaches.
Say No to Sugar. "No concentrated sugar, like pop, cookies and cake. All that makes your blood sugar shoot up. Try whole grains and nuts for snacks to help stabilize your glucose."
Don't Ignore It. Treatment of diabetes has evolved with better/improved options that reduce need for insulin delivery shots. Dr. Taylor says many patients mistakenly blame the synthetic hormone for limb loss and organ failure commonly found in patients whose glucose is out of control. "They think insulin is the bad guy. I want them to know taking insulin can be the start of a better life because you have control. Learn more about your diabetes so you can live."
Related Posts
Comments
About the Author
health enews staff is a group of experienced writers from our Advocate Aurora Health sites, which also includes freelance or intern writers.