Eight benefits of this superfood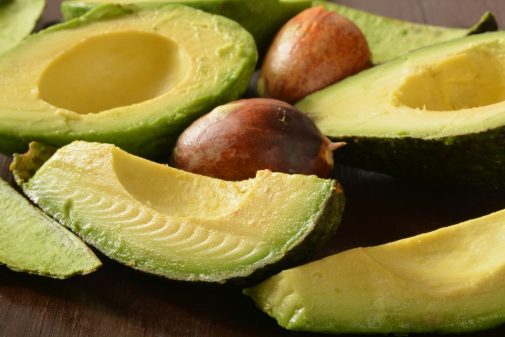 Avocados are considered a superfood for good reason. Also called an "alligator pear" due to its green, bumpy skin, avocados can be more than the main ingredient in guacamole. This post will educate you on their benefits and share a few tasty ways to incorporate them into your ever-improving diet. In my YouTube video, "Fix Your Fear of Fat In Your Diet," I shared that eating more healthy fats was one way to live a healthy, well-balanced life. Use avocados as a simple way to add healthy fat into your diet.
Eight benefits of avocados:
Supports low-carb lifestyle: A low carbohydrate food source with one serving containing 15 grams of healthy fat. Although one serving contains 9 grams of carbs, 7 of those are fiber, resulting in only 2 "net" carbs. Remember, fat does not make you fat. Carbs and sugar do.
Weight loss: Promotes weight loss since high fat/low carb foods help you to stay full, reducing your overall food consumption.
Reduced inflammation: Contains oleic acid (monounsaturated fatty acid found in olive oil), which is linked to reduced inflammation and is heart healthy.
Reduces arthritis symptoms: Multiple studies have shown that extracts from avocado and soybean oil, called avocado and soybean unsaponifiables, can reduce symptoms of arthritis of the bones.
Improves cholesterol: Studies have shown that avocados can reduce total cholesterol levels significantly, reduce blood triglycerides by up to 20 percent, lower LDL (the "bad") cholesterol by up to 22 percent, and increase HDL (the "good") cholesterol by up to 11 percent.
Improves eye health: Avocados are high in antioxidants, including Lutein and Zeaxanthin. These nutrients are very important for eye health and lower the risk of macular degeneration and cataracts.
Contains multiple vitamins: Contain vitamins K, C, B5, B6, E, and folate. They also contain more potassium than a serving of bananas.
Enhances your salad: Many research studies have shown that eating avocado or avocado oil with veggies can dramatically increase the amount of antioxidants you take in. That's because some nutrients are "fat soluble," and need to be combined with fat in order to be utilized. So adding it to your salad will make your salad more nutritious.
Creative ways to dress up your avocados:
Smoothies: In order to make a truly low carb smoothie, fat must be added, which will slow the impact of the higher carb items in the smoothie (fruit). Why not add one of the healthiest sources of fat by using an avocado? The taste of the smoothyie is unaffected and creates a smoother, creamier texture. I add avocado to most of my smoothies, and here is just one example:
INGREDIENTS
• 1 cup frozen mixed tropical fruit
• 1 cups baby spinach
• 1/4 medium avocado
• 2 scoops unflavored protein powder (HEMP powder is my favorite)
• 3/4 cup cold water
• stevia to taste (optional)
Blend all ingredients.
Milkshakes: Let a coffee-avocado milkshake help wake you up in the morning or during lunch.
INGREDIENTS
• 1/2 ripe large California avocado
• 1/3 cup espresso or 1 cup strong brewed coffee, cooled
• 1/2 cup sweetened condensed (not evaporated) milk
• 2 cups ice cubes
• 2 teaspoons vanilla
For low carb enthusiast, a replacement for sweetened condensed milk, is evaporated milk. Just add a low-carb sweetener like stevia to taste.
Blend all ingredients.
INGREDIENTS
• 2 ripe Hass Avocados
• 1 cup Coconut Milk (from carton)
• 1/2 cup Heavy Cream
• 1/2 cup Cocoa Powder
• 2 tsp. Vanilla Extract
• 1/2 cup Erythritol, Powdered
• 25 drops Liquid Stevia
• 6 squares Unsweetened Baker's Chocolate
Copy and paste the following link from ruled.me for directions on how to use these ingredients to make this low carb ice cream alternative: http://www.ruled.me/chocolate-chunk-avocado-ice-cream/#
Brownies: If you want to have a healthy snack that is vegan, consider this alternative to traditional brownies. This is truly guiltless indulgence since it contains less than 4 grams of net carbs per serving. A typical brownie made the traditional way has 15-30 carbs per serving.
INGREDIENTS
Wet Ingredients:
• 1 bar dark chocolate (100 g/ 3.5 oz) – I used 85% dark chocolate but you can use unsweetened and add more sweetener
• ¼ cup butter, ghee or extra virgin coconut oil (56 g/ 2 oz)
• 3 large eggs
• 1 large ripe avocado (200 g/ 7.1 oz)
• ¼ cup coconut milk or heavy whipping cream (60 ml / 2 fl oz) – I like Aroy-D coconut milk
• Optional: 15-20 drops Stevia extract (clear stevia or chocolate stevia)
Dry Ingredients:
• 1 ½ cups almond flour (150 g/ 5.3 oz)
• ¼ cup coconut flour (30 g/ 1.1 oz)
• ½ cup cacao powder unsweetened (45 g/ 1.5 oz)
• ¾ cup powdered Erythritol or Swerve or other healthy low-carb sweetener from this list (120 g/ 4.2 oz)
• 2 tsp gluten-free baking powder (you can make your own)
• ¼ – ½ tsp salt (I like pink Himalayan) – key ingredient!
Copy and paste the following link from http://ketodietapp.com for directions on how to use these ingredients to make this low-carb brownie alternative:
http://ketodietapp.com/Blog/post/2015/12/21/ultimate-keto-chocolate-brownies
Related Posts
Comments
About the Author
Dr. Tony Hampton, MBA, CPE is Board Certified in Obesity Medicine and Family Medicine. He currently is the physician lead for Advocate's Healthy Living Program as well as Regional Medical Director for the South Region of Advocate's Medical Group. He is an inspirational public speaker, blogger, coach, and has authored a book entitled Fix Your Diet, Fix Your Diabetes. He has led multiple programs and works with AdvocateAurora to coach patients on their journey to achieve their health care goals by balancing nutrition, exercise, stress reduction, increased sleep, and needed medical interventions. He believes that a shift is needed in healthcare where we all work together focus on prevention and wellness. He is married and a father of two college-aged boys.