Articles by "Dr. Tony Hampton"
Dr. Tony Hampton, MBA, CPE is Board Certified in Obesity Medicine and Family Medicine. He currently is the physician lead for Advocate's Healthy Living Program as well as Regional Medical Director for the South Region of Advocate's Medical Group. He is an inspirational public speaker, blogger, coach, and has authored a book entitled Fix Your Diet, Fix Your Diabetes. He has led multiple programs and works with AdvocateAurora to coach patients on their journey to achieve their health care goals by balancing nutrition, exercise, stress reduction, increased sleep, and needed medical interventions. He believes that a shift is needed in healthcare where we all work together focus on prevention and wellness. He is married and a father of two college-aged boys.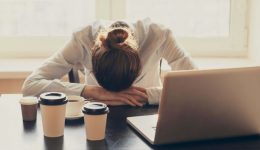 Address the root cause of your sleepiness to start feeling better.