How a 7 year-old boy saved his mom's life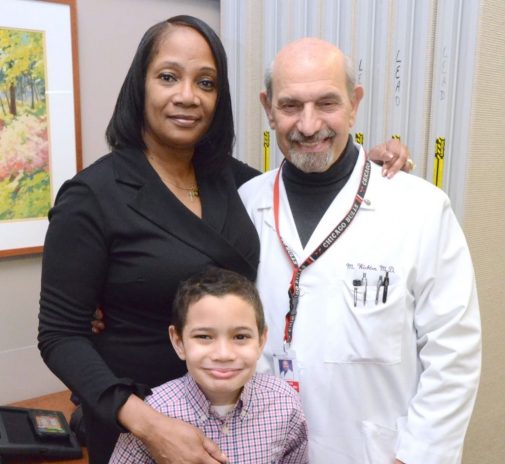 Chicago Police Officer Sherece Holland may be working to keep the city safe, but it's her seven year-old son, Romeo, who is looking out for her at home.
On December 21, 2016, the 55-year-old was in the middle of her morning routine with Romeo. "I was just standing there holding his toothbrush that day instead of helping him brush his teeth as I normally do," Sherece remembers. "Romeo noticed something was very wrong because I almost fell, so he ran to get my mother, who lives with us."
Sherece's mother began to panic after seeing her daughter displaying some signs of stroke—having trouble speaking and moving her arms. That's when Romeo stepped in, telling his grandmother to calm down and leading her to their emergency call button. Romeo used her hand to call for help, but it was the boy who spoke with the dispatchers on the line.
"I had taught Romeo what to do in case of a health emergency with my mother. He knew to call for help, but I never would have imagined he'd use those skills to take care of me," Sherece says.
EMS arriving and loading her into an ambulance is the last thing Sherece remembers. "When I woke back up, my sister told me I had surgery. Confused, I asked her, 'Who did?'"
Sherece suffered a blood clot that blocked the artery leading to the left side of the brain. Dr. Scott Geraghty, neurointerventional radiologist with the Neurosciences Institute at Christ Medical Center in Oak Lawn, Ill., performed a thrombectomy, removing the clot in her artery and allowing blood to flow to the brain. "When she arrived, she was unable to say a word, and her right side was completely paralyzed," recalls Dr. Geraghty.
"This story touches the core of why getting patients to the hospital who are suspected to be having a stroke can be life-saving, and it's all predicated on the fact that Romeo perceived something was wrong and acted to save his mom's life," says Dr. Melvin Wichter, chair of neurology and co-director of the Neurosciences Institute. He says it was Romeo's fast response that prevented Sherece from suffering brain damage or death and the family from experiencing a traumatic Christmas. "Instead, Sherece has no neurological deficit," he says.
Sherece's recovery is going so well that she has been discharged from therapy and is back at home with Romeo.
"When I found out my son saved my life, I didn't know what to feel. He is just such a smart boy," she says.
Related Posts
Comments
About the Author
Holly Brenza, health enews contributor, is a public affairs coordinator on the content team at Advocate Health Care and Aurora Health Care. She is a graduate of the University of Illinois at Chicago. In her free time, Holly enjoys reading, watching the White Sox and Blackhawks, playing with her dog, Bear and running her cats' Instagram account, @strangefurthings.