5 tips to stick to your exercise routine in winter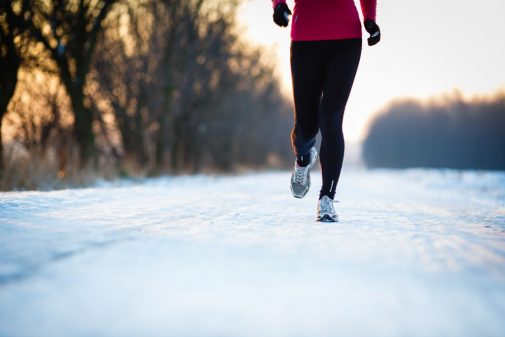 It's easy to get out of your usual workout routine in winter, but with the proper information and planning, you shouldn't let the cold weather get in the way of your workouts!
These five tips can help even a winter workout novice get going.
Dress right– Wearing a base layer made of technical materials that will wick moisture away from your body is important to stay warm. Dress in layers that you can shed if you warm up. Wear an outer layer shell that will keep you dry and protected from snow and wind, but will also vent the moisture you create as sweat. Also, since there is less daylight, make sure you wear reflective gear or use a headlamp so you can not only see where you are going, but so oncoming cars and trucks can see you. Make sure you cover your extremities – fingers, noses and ears are prone to freeze first, so keep them well protected.
Keep moving – If you dress right for the conditions, the more you move, the warmer you will get. Try to keep your heart rate elevated and avoid stopping or slowing down. After a workout, get out of damp workout clothes right away, as damp clothing increases heat loss.
Know your limits – There may be times when the temperature is too cold to get your workout done outside or the footing may be too icy to safely get a run or bike done outside. I personally choose to take my runs inside when temperatures fall below 15 to 20°F or wind chill falls below -20°F. Keep in mind that frostbite occurs when skin temperature falls below 32°F, and when the wind chill falls below -18°F, you can develop frostbite in 30 minutes or less.
Take extra time to warm up – Your body will warm up more slowly in the colder weather, so take about 5 minutes to briskly walk prior to starting a run and another 5-10 minutes to run at a slow pace before starting to run at a tempo pace.
Hydrate – It is just as important to drink fluids during winter as it is in the summer. Be sure to hydrate before, during and after your runs in the winter.
Related Posts
Comments
About the Author
Sara Dumich, MD is an Advocate Medical Group physician specializing in sports medicine. She currently practices in Bloomington-Normal where she also serves as a team physician for Illinois State Athletics. Dr. Dumich is a former collegiate gymnast and last fall completed her first IronMan triathlon.