Did you know this is one of the most versatile vegetables?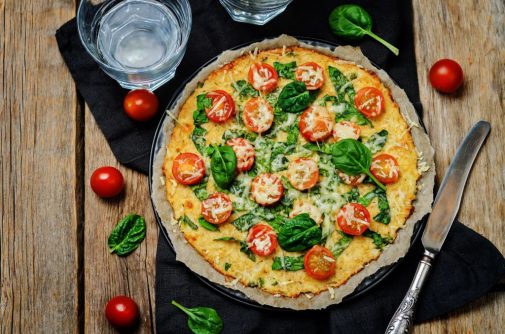 Many people don't enjoy cauliflower for three reasons: its lack of taste, peculiar smell and white color. But did you know that cauliflower is one of the most versatile vegetables that you can consume, and for that reason, does not have to be consumed the way you remember as a child (boiled)?
In fact, cauliflower can be used in so many ways, it can even be used to make a pizza crust, which has become my family's standard way to make pizza. Why? Because my family lives a low starchy carb lifestyle, and we have learned many creative ways to enjoy the foods we love using low starchy carb ingredients. Cauliflower provides a low starchy carb alternative to foods like rice, mashed potatoes, tater tots, soup, and so many others. But don't be fooled by its color. While many people may not associate cauliflower with the same nutrient richness as its fellow green cruciferous vegetables like broccoli or kale, it holds up very well when compared to the competition.
The other problem for many has been the slight odor this versatile vegetable has, but the odor actually explains why this vegetable is such a healthy option for diet. So what is the smell all about?
It has to do with the sulfur content, which explains many of cauliflower's most important health benefits, as you will see.
Those benefits include:
Sulforaphane, which is a sulfur compound, has many beneficial effects, including anti-cancer effects, improved blood pressure and improved kidney function.
Sulfur, an anti-inflammatory nutrient, which helps prevent inflammation.
Antioxidants that support detoxification. Beta-carotene, beta-cryptoxanthin, caffeic acid, cinnamic acid, ferulic acid, quercetin, rutin, and kaempferol are among cauliflower's key antioxidant phytonutrients. Sulfur also helps to attach to and remove toxic substances.
Vitamin C (one serving of cauliflower contains almost all you need for the entire day)
Vitamin K
Folate (helpful in pregnancy)
Vitamin B6
Fiber
Omega 3 fatty acids
Who benefits the most? 
Anyone who suffers from inflammatory medical conditions, since inflammation can contribute to many debilitating, chronic illnesses — including osteoarthritis, rheumatoid arthritis, heart disease, Alzheimer's disease, Parkinson's disease and even cancer. Reducing inflammation also stabilizes blood sugars, helping to manage and prevent diabetes.
Better alternative to boiling cauliflower
Boiling cauliflower in water leads to removal of many of it phytonutrients in the water. This is great news, since many of us learned to dislike cauliflower when it was prepared this way. When steamed instead, the phytonutrients glucosinolates (contains sulfur) and flavonoids are better preserved. Glucosinolates have cardiovascular, digestive, immune, inflammatory and detoxification benefits.
Cardiovascular benefits
Studies have shown cooking of raw cauliflower significantly improves its ability to bind together with bile acids. This is important because bile acid binding is a well-documented method for helping with the process of regulating blood cholesterol levels, leading to potential cardiovascular benefits from cooking cauliflower.
Cancer reduction benefits
Studies revealed that when cauliflower is consumed at least once per week, it is associated with decreased risk of colorectal cancer and has been shown to be associated with a greater decrease in risk than broccoli. In terms of prostate cancer risk, cauliflower and broccoli have shown a similar ability to decrease the risk of the second-leading cause of cancer in men.
Nutritional benefits from raw versus cooked cauliflower
Both ways of eating cauliflower are beneficial, so enjoy them any way you like to prepare them. Although there can be the loss of water-soluble nutrients during cooking with water or other liquids, there can also be increased bio-availability from the freeing up of nutrients that remain inside the cells in raw cauliflower and are released from those cells during cooking due to the breakdown of cell walls.
Creative ways to use cauliflower:
You are a Google or YouTube search away from many great ways to prepare cauliflower. Simply use your imagination and give it a try. You will be surprised how good this healthy low carb alternative to starchy carbs will taste:
Rice (traditional, cilantro-lime cauliflower rice, or as shrimp fried rice my favorite)
Mashed (traditional or garlic)
Pizza crust (traditional dough contains too many carbs)
Hot wings (alternative to chicken or eaten alongside the chicken)
Creamy cauliflower soup
Cauliflower "breadsticks"
Cauliflower "mac'n'cheese"
Cauliflower tortillas (or taco shells)
Cauliflower "hummus"
Cauliflower "everything bagels"
For those who have experienced this great vegetable, share creative ways you have enjoyed it. For those who have not, remember my motto: Be open to changing old beliefs to new ones which better serve you. You have to give some of these creative ideas a try. You won't be disappointed.
Related Posts
Comments
About the Author
Dr. Tony Hampton, MBA, CPE is Board Certified in Obesity Medicine and Family Medicine. He currently is the physician lead for Advocate's Healthy Living Program as well as Regional Medical Director for the South Region of Advocate's Medical Group. He is an inspirational public speaker, blogger, coach, and has authored a book entitled Fix Your Diet, Fix Your Diabetes. He has led multiple programs and works with AdvocateAurora to coach patients on their journey to achieve their health care goals by balancing nutrition, exercise, stress reduction, increased sleep, and needed medical interventions. He believes that a shift is needed in healthcare where we all work together focus on prevention and wellness. He is married and a father of two college-aged boys.