Supermodel Chrissy Teigen opens up about postpartum depression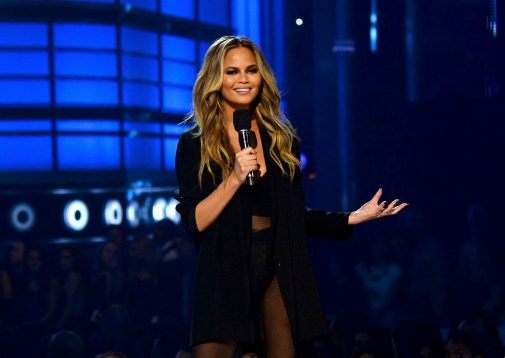 When supermodel and "Lip Sync Battle" host Chrissy Teigen wrote a recent essay for Glamour magazine, she brought renewed attention to a condition that, according to the American College of Obstetricians and Gynecologists, affects one in seven women.
Like singer Adele and actress Hayden Panettiere, Teigen, who is married to singer-songwriter John Legend, is the latest famous person to open up about a subject that is often kept very private: postpartum depression.
In the essay, Teigen wrote of how she spent several months struggling with emotional extremes, loss of appetite and lack of energy before she sought help and was diagnosed with postpartum depression and anxiety.
"Before this, I had never, ever – in my whole entire life – had one person say to me: 'I have postpartum depression,'" she wrote.
Mary DeClue, a psychiatric-mental health nurse practitioner at Advocate Medical Group in Bloomington, Ill., explains that it's not uncommon for women to play down or refuse to acknowledge that they are suffering from postpartum depression.
"Many patients initially deny their anxiety or depressed moods but do recognize and complain of gastrointestinal distress, chronic or intermittent pain, irritability, dizziness, appetite change, lack of energy and sleep disturbance," DeClue says. "These symptoms are more socially acceptable to identify than the profound feeling of sadness, inability to concentrate and/or loss of pleasure in usual activities."
Teigen's story affirms this.
"I have a great life. I have all the help I could need…," she wrote. "But postpartum does not discriminate: I couldn't control it. And that's part of the reason it took me so long to speak up: I felt selfish, icky, and weird saying aloud that I am struggling."
DeClue says that postpartum depression usually occurs between two weeks and 12 months after delivery and can include a variety of symptoms such as sadness, anger, inability to concentrate, self-destructive thoughts, loss of appetite or overeating and withdrawal.
Postpartum depression is different from postpartum blues (sometimes called the "baby blues"), DeClue says, in that the blues tend to be brief episodes (1-4 days) of tearfulness and mood swings that occur 1-5 days after delivery.
But when the "blues" extend their stay and become mixed with some of the other symptoms mentioned previously, women should seek outside help.
"If within the first couple of weeks after delivery, the feelings of the blues continue or become more intense, it is a good idea to check in with a professional and be evaluated," DeClue says.
DeClue notes that a treatment combination of the right medication and psychotherapy can usually help the sufferer get past the depression.
For Teigen, part of getting past it was addressing it publicly.
"I don't want people who have it to feel embarrassed or to feel alone," she wrote. "I also don't want to pretend that I know everything about postpartum depression, because it can be different for everybody. But one thing I do know is that – for me – just merely being open about it helps."
Related Posts
Comments
About the Author
health enews staff is a group of experienced writers from our Advocate Aurora Health sites, which also includes freelance or intern writers.