A look into the future of surgery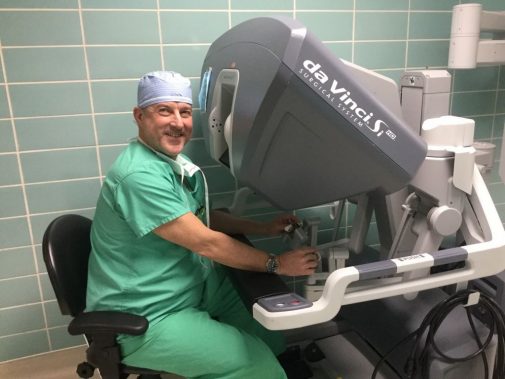 When you learn you need surgery, many thoughts may cross your mind. Is it dangerous? Will it leave a scar? What is the recovery time?
These are just a few common questions that patients ask their physicians. But did you know that robotic surgeries allow physicians to perform many types of surgical procedures with the benefits of less pain, less blood loss, less scarring and risk of infection, and a much shorter recovery time?
Compared to conventional surgery using a long incision, or even computer-assisted minimally invasive techniques like laparoscopy, robotic-assisted surgery gives surgeons a new level of precision and control, which is critical in many complex surgeries.
And for those who worry when they hear the word robot, it's important to note that robotic surgery is a technique in which a surgeon operates using a computer that remotely controls very small instruments attached to a robotic arm. The system cannot be programmed and cannot make decisions on its own. Every single surgical maneuver that is performed is a direction given by the surgeon.
Dr. Fabio Sbrana, a surgeon who specializes in minimally invasive robotic surgery at Advocate Lutheran General Hospital in Park Ridge, Ill., performs some of the most intricate and complicated cancer procedures using robotics. He is the only Advocate physician and one of two in the state of Illinois to treat advanced liver and pancreatic cancer robotically. He was also one of the first surgeons in the world to use a robot for general surgery when he was practicing in Italy.
"I was absolutely fascinated with the robot when I first saw it," says Dr. Sbrana. "I was in Germany at the time, and I went back to Italy and told my colleague 'this is what we need.  It will help us.'" More than a decade later, Dr. Sbrana is applying some of the most advanced techniques to date with the robot.
"The robot has a lot of respect for me," he jokes. "I am controlling it, and we are doing great things together for patients."
He currently uses the da Vinci XI robot, the most advanced robotic surgical system available. This version offers a wide range of motion, which is essential with more complex multi-quadrant surgeries like many that Dr. Sbrana performs.
Wondering if robotics might be an option for a procedure you or a loved one need? Learn more about our robotic surgeons and surgeries they perform here.
Related Posts
Comments
About the Author
Jacqueline Hughes is a former manager, media relations at Advocate Aurora Health. Previously, she was the public affairs and marketing manager at Advocate Lutheran General Hospital in Park Ridge, IL. She earned her BA in psychology at Stanford University in Palo Alto, California. Jackie has 10 plus years experience working in television and media and most recently worked at NBC 5 in Chicago. In her free time, she enjoys swimming, going to the movies and spending time with her family.