Cubs usher undergoes heart procedure in time to receive World Series ring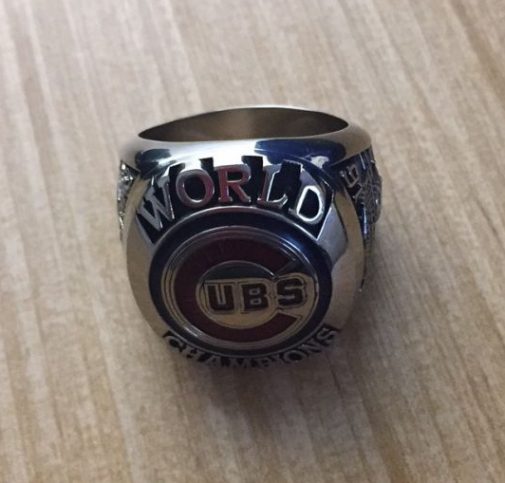 88-year-old Don Vlcek has been ushering for almost two decades. He is a lifelong Cubs fan and has waited a long time for a World Series win. So when the Cubs won last November and he found out he was going to receive a World Series ring as a long-time usher, he was ecstatic.
But Don almost didn't make it to get that ring. That's because on Good Friday – just three days before he was set to receive his ring at Wrigley Field – he woke up in the middle of the night sweating with chest pains. He woke his grandson, who then rushed him to Advocate Lutheran
General Hospital in Park Ridge, Ill. His care team said if he'd come even an hour later, he likely would've been in full cardiac arrest.
Physicians initially scheduled Don for a procedure on Monday. But that was the day Don was scheduled to get his ring.
Advocate cardiac nurse Toni Bartels knew she had to intervene.
"We can't do this on Monday; we need to do it now because he needs his ring," she recalls saying.
And they did just that. "We just said 'you know what, we'll come in early tomorrow morning on our day off and do the procedure' so Don could be on his way in time to get his ring," says Dr. Raymond Kawasaki, a cardiac electrophysiologist at the Heart Institute at Advocate Lutheran.
So four Advocate team members came in that Saturday, on what normally is their day off, and put in a pacemaker with defibrillator capabilities. Don was released the next day, Easter Sunday, ensuring he made it to get his ring.
As for Don: "I feel great," he says. "I'm ready to run around the block."
His physicians gave him the all clear, so he'll be back at the ballpark this week, working as an usher for the team that he loves so much.
Don says he plans to wear his ring everywhere and hopes the Cubs make it another winning year so he can add to his collection.
"I got fingers for ten of them," he jokes.
Related Posts
Comments
About the Author
Jacqueline Hughes is a former manager, media relations at Advocate Aurora Health. Previously, she was the public affairs and marketing manager at Advocate Lutheran General Hospital in Park Ridge, IL. She earned her BA in psychology at Stanford University in Palo Alto, California. Jackie has 10 plus years experience working in television and media and most recently worked at NBC 5 in Chicago. In her free time, she enjoys swimming, going to the movies and spending time with her family.