Surprising factor contributing to Carrie Fisher's death released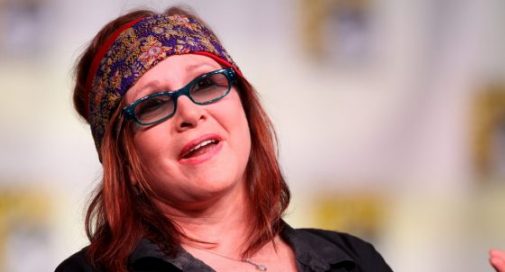 In December 2016, Carrie Fisher, or as many of us know her best, Princess Leah from 'Star Wars,' suddenly died after going into cardiac arrest on a flight from London to Los Angeles. A new report released from the Los Angeles County coroner's office identified other factors involved in the 60-year-old actress's death.
The cause of her death was categorized as sleep apnea with other conditions including atherosclerotic heart disease and drug use.
Sleep apnea is a serious sleep disorder in which an individual stops breathing multiple times throughout the night, causing the body – including the brain – to potentially not receive enough oxygen. According to the American Sleep Apnea Association, 22 million Americans have sleep apnea, and 80 percent of moderate and severe cases of obstructive sleep apnea are undiagnosed.
Fisher's assistant says she slept the majority of the flight and had a few episodes where she stopped breathing during their travel.
"It's uncommon for someone to die from sleep apnea, but the use of drugs in someone who has sleep apnea can worsen the affects and be fatal," says Dr. Yelena Tumashova, a sleep medicine specialist at Advocate Lutheran General Hospital in Park Ridge, Ill. "Undiagnosed cases of sleep apnea can lead to cardiac disease, diabetes and risk factors for stroke. As we know from Carrie's story, it is important to get diagnosed and treated for sleep apnea early on because of these risks."
Dr. Tumashova says the symptoms of sleep apnea include:
Snoring
Excessive daytime sleepiness
Insomnia
Trouble breathing in the night
Weight gain
"If you notice multiple symptoms like these in yourself or your partner's sleep, you should seek medical attention, as this condition is easy to diagnose and treat," says Dr. Tumashova. "While Fisher's symptoms aren't explicitly known, it's important for you to get medical guidance from your primary care physician or a sleep specialist so it doesn't cause long-term effects on your body."
Related Posts
Comments
About the Author
Marrison Worthington, health enews contributor, is a public affairs and marketing manager at Advocate Christ Medical Center in Oak Lawn, Illinois. She is a graduate of Illinois State University and has several years of global corporate communications experience under her belt. Marrison loves spending her free time traveling, reading organizational development blogs, trying new cooking recipes, and playing with her golden retriever, Ari.