Could this tear-inducing food prevent cancer?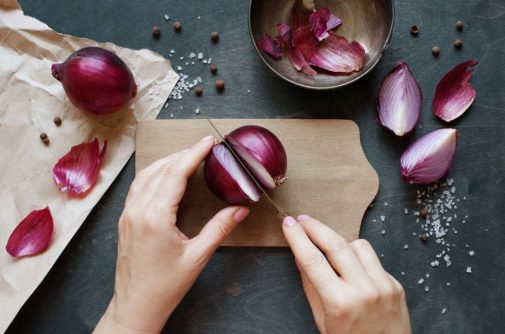 Ontario-grown red onions pack some real cancer-fighting power, according to the latest research from the University of Guelph.
For the study, the researchers placed colon and breast cancer cells into direct contact with quercetin, a phytochemical extracted from five different types of onions. They found quercetin stopped the growth of cancer cells and caused the cancer cells to die.
While all onions possess some amounts of quercetin, this study showed Ontario red onions, which have higher levels of the compound compared to other types of onions, have an especially powerful ability to fend off cancer.
So, what's the key to quercetin's cancer-fighting magic?
As a phytochemical, quercetin helps boost our immune system, slows the growth of cancer and prevents DNA damage that can serve as a breeding ground for cancer cells in our bodies.
"This study builds on previous research that show the importance of a healthy diet rich in phytochemicals," says Dr. Ann Mauer, a medical oncologist at Advocate Illinois Masonic Medical Center. "Onions are only one type of food that offer cancer-fighting benefits, and I encourage everyone to consume a diverse variety of fruits and vegetables to boost the body's natural defense system against cancer."
Related Posts
Comments
About the Author
Jaimie Oh, health enews contributor, is regional manager of public affairs and marketing at Advocate Health Care. She earned her Bachelor's Degree in Journalism from the University of Missouri-Columbia and has nearly a decade of experience working in publishing, strategic communications and marketing. Outside of work, Jaimie trains for marathons with the goal of running 50 races before she turns 50 years old.