The downside of having a hot husband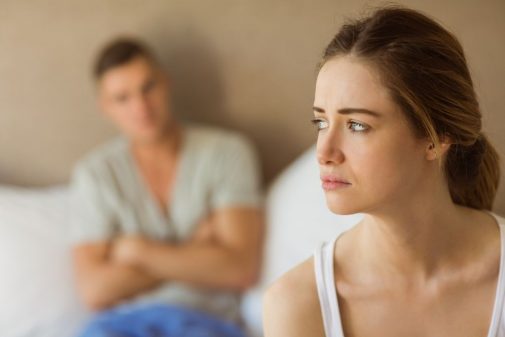 People are motivated to lose weight for a number of good reasons – their health, their self-esteem – but in today's body-conscious culture, there can be just as many not-so-good reasons.
Among the latter: a recent study of young newlyweds indicates that for some women, the attractiveness of their spouse can be a strong motivation to diet.
Researchers at Florida State University found that women who were considered less attractive than their husbands were more motivated to diet for a slimmer figure than women who were more attractive than their spouses. Men in the study showed little motivation to diet, regardless of their wife's attractiveness.
Many of the responses from the study's less-attractive wives indicated they dieted out of a fear that their body would fall short of their husband's expectations.
"The research suggests there might be social factors playing a role in women's disordered eating," said Tania Reynolds, the study's lead researcher, in a press release. "It may be helpful to identify women at risk of developing more extreme weight-loss behaviors, which have been linked to other forms of psychological distress, such as depression, anxiety, substance abuse and dissatisfaction with life."
Reynolds added that other research has indicated women tend to be unrealistic about how thin their partners want them to be and may, as a result, pursue an inappropriate path to weight loss.
"One way to help these women is for partners to be very reaffirming, reminding them, 'You're beautiful. I love you at any weight or body type,'" Reynolds said.
Dr. Judy Ronan Woodburn, an Advocate Medical Group licensed clinical psychologist in Bloomington, Ill., finds the differences between the sexes to be particularly telling.
"The results of this study make me wonder about factors related to attractiveness, including sociocultural messages about power," she says. "Since, in general, in the American sociocultural climate, men are automatically perceived as having more power than women, it makes some sense to me that men's motivation to diet and become more attractive is low regardless of their wives' attractiveness. Women, on the other hand, generally are given less power, so there might be a stronger need to gain power by being attractive."
Dr. Woodburn adds that perhaps for women who are considered more attractive than their male partners, their attractiveness lessens the need to obtain power by becoming even more attractive.
For the study's researchers, the results provide insight into why eating disorders develop.
"If we understand how women's relationships affect their decision to diet and the social predictors for developing unhealthy eating behaviors, then we will be better able to help them," Reynolds says.
Related Posts
Comments
About the Author
health enews staff is a group of experienced writers from our Advocate Aurora Health sites, which also includes freelance or intern writers.