Sugar babies: An innovative treatment is helping newborns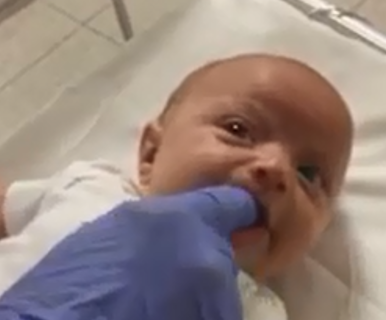 A simple yet effective treatment is keeping many newborns out of the neonatal intensive care unit.
Rubbing glucose gel inside a baby's cheek can reverse low blood sugar (hypoglycemia), a potentially harmful condition that can result in a longer hospital stay, clinicians at Advocate Children's Hospital and Advocate Lutheran General Hospital in Park Ridge, Ill., have discovered.
 Watch a video demonstration of the treatment being administered.
Since the protocol was implemented, Lutheran General Hospital has seen a 73 percent reduction in admissions to the neonatal intensive care unit for the primary diagnosis of hypoglycemia.
"It's inexpensive, noninvasive and easy to administer," says Catherine Bennett, a perinatal clinical nurse specialist at Advocate Children's Hospital whose work on the topic was published in the Association of Women's Health, Obstetric and Neonatal Nurses. "If the use of glucose gel is adopted by other hospitals, we can revolutionize the standard of treatment through the development of new clinical guidelines for newborns experiencing neonatal hypoglycemia."
Neonatal hypoglycemia is the leading metabolic cause of admission to the neonatal intensive care unit. Typically, these babies were treated with formula supplementation or intravenous glucose administration, which interrupt exclusive breastfeeding and interfere with mother-infant bonding during those precious first few hours of the baby's life; gel treatment does not.
Admitting a newborn to the neonatal intensive care unit also carries a considerable financial burden; the one-day charge is estimated at $4,000-$6,000.
When a baby's glucose levels drop to low levels for many hours, it can result in neurological damage including seizures, cerebral palsy, mental retardation and/or disturbances that lead to learning deficits.
The gel is a blend of glucose, water and glycerin. It's sold as an over-the-counter medication in most pharmacies because it's commonly used to treat hypoglycemia in adults and children of other age groups.
Published studies using the gel to treat hypoglycemia in babies is limited. Lutheran General Hospital implemented its protocol based on the research in New Zealand known as the "Sugar Babies Study", which found treating newborns with dextrose gel was effective. Glucose and dextrose have the same chemical formula and both are simple monosaccharides (sugars).
The new treatment protocol has been expanded to mother-baby units at other hospitals within Advocate Health Care's 12-hospital system.
Related Posts
Comments
About the Author
Lisa Parro, health enews contributor, is manager of content strategy for Advocate Aurora Health. A former journalist, Lisa has been in health care public relations since 2008 and has a master's degree in journalism from Northwestern University. She and her family live in Chicago's western suburbs.