Could a simple pill fight cancer?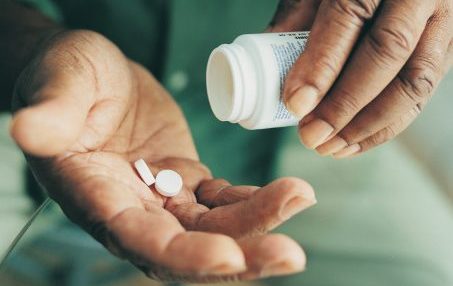 As the age-old saying goes, an apple a day keeps the doctor away.
Could the same be said of daily low-dose aspirin in fighting off cancer?
Possibly, according to research presented at the American Association for Cancer Research and reported by Health Day.
For the study, researchers followed approximately 130,000 individuals over a 32-year timespan. The researchers analyzed their aspirin use every two years to see if there was an impact on death rates from cancer.
The results of the study showed the overall risk of death was 7 percent lower for women and 11 percent lower for men who regularly used aspirin compared to women and men who did not regularly take aspirin. The risk of death from cancer specifically was reportedly 7 percent lower for women and 15 percent lower for men who are regular aspirin users.
The largest difference in reduced risk of death from cancer was found in men and women who had colorectal cancer and regularly took aspirin. Researchers found a 31 percent drop in risk of death for women and a 30 percent drop for men.
Similar patterns were found across other types of cancer, including breast, prostate and lung cancer.
Dr. Ann Mauer, a medical oncologist at Advocate Illinois Masonic Medical Center in Chicago, says these results build on already existing research spotlighting the many health benefits of aspirin.
"Previous studies have shown aspirin can help individuals manage cardiovascular disease and reduce the risk of death from cancer, so these study results are very encouraging," she says. "However, we are not at a point where cancer patients should start taking aspirin in the hopes of improving their prognosis. It does pose a unique opportunity for the medical community to look at this correlation more meaningfully."
To that end, physicians at Advocate Illinois Masonic Medical Center's Creticos Cancer Center are recruiting patients for a clinical trial that will investigate whether aspirin intake may decrease the risk of breast cancer recurrence.
Related Posts
Comments
About the Author
Jaimie Oh, health enews contributor, is regional manager of public affairs and marketing at Advocate Health Care. She earned her Bachelor's Degree in Journalism from the University of Missouri-Columbia and has nearly a decade of experience working in publishing, strategic communications and marketing. Outside of work, Jaimie trains for marathons with the goal of running 50 races before she turns 50 years old.