When fashion becomes dangerous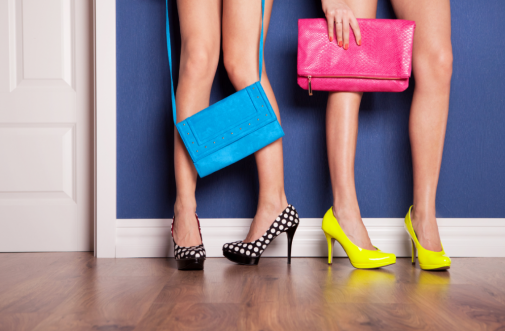 If you suffer from back pain, a recent study suggests fashion could be to blame.
A report from the British Chiropractic Association (BCA) found that 73 percent of women suffer from back pain, and their wardrobe may be a cause for discomfort.
Tim Hutchful, BCA chiropractor, said he was surprised to find out that one third of the study's female participants were unaware that their choice in clothing could impact their back or neck health.
"Some of the most popular items of clothing can have a hidden health impact. While overloaded and heavy handbags are a common culprit, some more unexpected items like skinny jeans can also wreak havoc, as they restrict free movement in areas such as the hips and knees, affecting the way we hold our bodies. New trends such as asymmetric hemlines, oversized sleeves and hoods and heavy jewelry can also create problems," said Hutchful.
The report found that the top five clothing culprits of back and neck pain are:
Skinny jeans
Oversized bags and those worn on one side of the body
Coats with large, fluffy hoods
High heeled shoes
Backless shoes
Dr. Patrick Sugrue, neurosurgeon at Advocate Good Samaritan Hospital in Downers Grove, Ill., says it is estimated that 80 percent of people will experience back pain at some point in their lives.
"I think the study has some merit, but not convincing science. With that said, they make some interesting points. Heavy bags and high heels can impact the spine. A heavy bag carried on one shoulder can add unnecessary stress on one side of the spine, making the rest of the spine compensate in order to maintain alignment. Likewise, wearing high heels pushes one anteriorly and causes the spine to compensate in an abnormal alignment to keep you standing straight," he said.
Dr. Sugrue suggests the following tips to maintain a healthy, agile back:
Select the right shoes – Walking the wrong way over time can lead to bulging discs, disc pain and other degenerative spine disorders. It's important to select shoes that properly fit your feet and have arch support. Be especially wary of high heels and flip flops. Instead, footwear specialty stores can analyze your gait and recommend shoes that fit your feet and lifestyle.
Reduce the weight of your bag – Women and students often carry more weight in their purses or backpacks than they realize. Be cautious of big bags that allow you to fill them with more things.
Exercise regularly – Always stretch before exercise and other strenuous physical activity. In addition, maintain good bone health and build core strength through yoga and pilates.
Maintain proper nutrition and diet – Eating a healthy diet can reduce and prevent excessive weight gain, which can harm lower back muscles.
Dr. Sugrue suggests seeking assistance from a doctor if the pain persists for more than a few weeks and you've tried to reduce activity without some improvement.
"Anytime there is pain, numbness or weakness that radiates down the leg or into the groin or if you suffer from bowel or bladder incontinence, seek medical attention," he says.
Related Posts
Comments
About the Author
Johnna Kelly, healthe news contributor, is a manager of public affairs and marketing at Advocate Christ Medical Center in Oak Lawn. She is a former newspaper reporter and spent nearly 10 years as a public relations professional working for state and county government. During her time as a communications staffer for the Illinois General Assembly, she was integral in drafting and passing legislation creating Andrea's Law, the nation's first murderer registry. In her spare time, she volunteers at a local homeless shelter, enjoys traveling, photography and watching the Chicago Bulls.