What you need to know about "leisure sickness"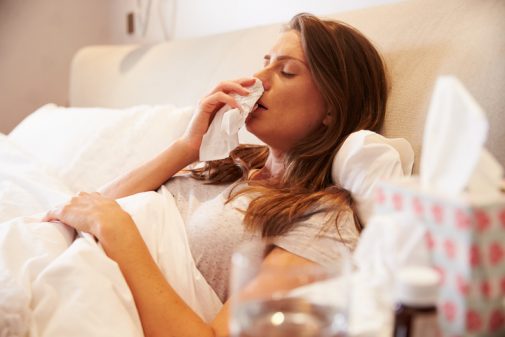 You've been looking forward to this for months.
Two days into your relaxing vacation, you start to notice a tickle in your throat and a headache setting in. You can't be getting sick. Or can you?
Leisure sickness, as defined in a 2002 Dutch study, is "the condition of developing symptoms of sickness during weekends and/or vacations." Factors like sitting in an airplane near a sick passenger or not getting enough sleep are contributors to your likelihood of falling ill while traveling.
Dr. Yasmeen Khan, Advocate Medical Group family medicine physician on staff at Advocate Good Samaritan Hospital in Downers Grove, Ill., says you're more likely to get sick while traveling because you're exposed to more germs.
"There also may be a link between having trouble adjusting from your daily stressful routine to a slower, less structured vacation schedule," she says. "Some people have higher stress hormones, like adrenaline and cortisol – even while they are on vacation – that may prevent the immune system from working properly."
Dr. Khan points out an interesting reason why we may be more aware of our wellness while taking a break on vacation.
"Part of it may just be that we are more in tune to our body's well-being and have a greater self-awareness while being on vacation or on our days off. During a stressful work week, we may ignore our ailments as we are too busy to be slowed down by feeling ill."
Dr. Khan offers the following tips for staying healthy while enjoying time away:
Practice good hand hygiene.
Exercise daily – even if it's just a 20-minute outdoor walk!
Get adequate sleep – at least 7-8 hours a night.
Avoid excess alcohol consumption.
Eat healthy, balanced meals.
Build in time for relaxation – Consider prayer or meditation.
Try not to over-stuff your vacation with too many activities on the itinerary. ("It may increase the chances of burning out when you should be recharging your battery through rest and relaxation," she says.)
Related Posts
Comments
About the Author
Holly Brenza, health enews contributor, is the public affairs coordinator at Advocate Children's Hospital. She is a graduate of the University of Illinois at Chicago. In her free time, Holly enjoys reading, watching the White Sox and Blackhawks, playing with her dog, Bear and running her cats' Instagram account, @strangefurthings.