Attacking an unusual cancer – the second time around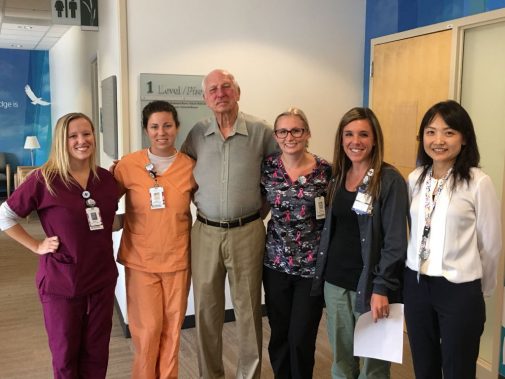 Thomas Mitoraj is the Polish king.
Or that is at least how his email address reads.
Mitoraj is first generation Polish, and his wife is first generation Irish. A U.S. Air Force Vietnam veteran, Mitoraj has seen and experienced a lot in his life, including recently.
Mitoraj was first diagnosed with cancer involving lymph nodes in the head and neck region in 2015. What was unique about his cancer is that the medical oncologists and surgeons could not find the primary tumor site, which is unusual. He had his radiation and chemotherapy treatment at Advocate Sherman's Cancer Care Center in Elgin, Ill., which he started in November of 2015 and finished December 23, 2015.
Since Mitoraj loves Thanksgiving and knew he would not be able to enjoy eating the Thanksgiving family meal after having radiation treatment for his neck and head, his family had Thanksgiving in October that year.
Lauren Kane, radiation oncology nurse at Advocate Sherman Hospital, shares that Mitoraj's cancer stood out to her because there was an unknown primary site.
"Usually, cancer patients have their primary tumor located in their lungs, breast, prostate, thyroid, skin, etc. but not this one," she comments. "Since the primary site was unknown, we had to treat the neck and the head, which causes difficult symptoms due to the radiation and chemotherapy, like soreness of the throat, needing to use a feeding tube because you cannot swallow, loss of weight, etc."
Unfortunately, Mitoraj developed recurrence in 2017, about two years after completion of his first round of radiation. But this time around, his medical team was able to find the primary cancer site, which was in the nasal septum – internally behind where one's nostril is located. Dr. Suisui Song, radiation oncologist at Advocate Sherman, conferred with Mitoraj's surgeon, and they both recommended that he get radiation for the second time.
"We always work with the surgeons to collaborate with the patient on their options," shares Dr. Song. "This is a joint team effort, and ultimately, it is the patient's choice, which we respect and back up. We are grateful to have a great team here."
When asked what Mitoraj had thought about his cancer recurrence and radiation for the second time, he calmly states, "What's the other option?"
Dr. Song shares, "The common misconception is that a patient cannot get radiation twice, which is not true. It is case by case. The radiation oncologist helps inform the patient of their options. "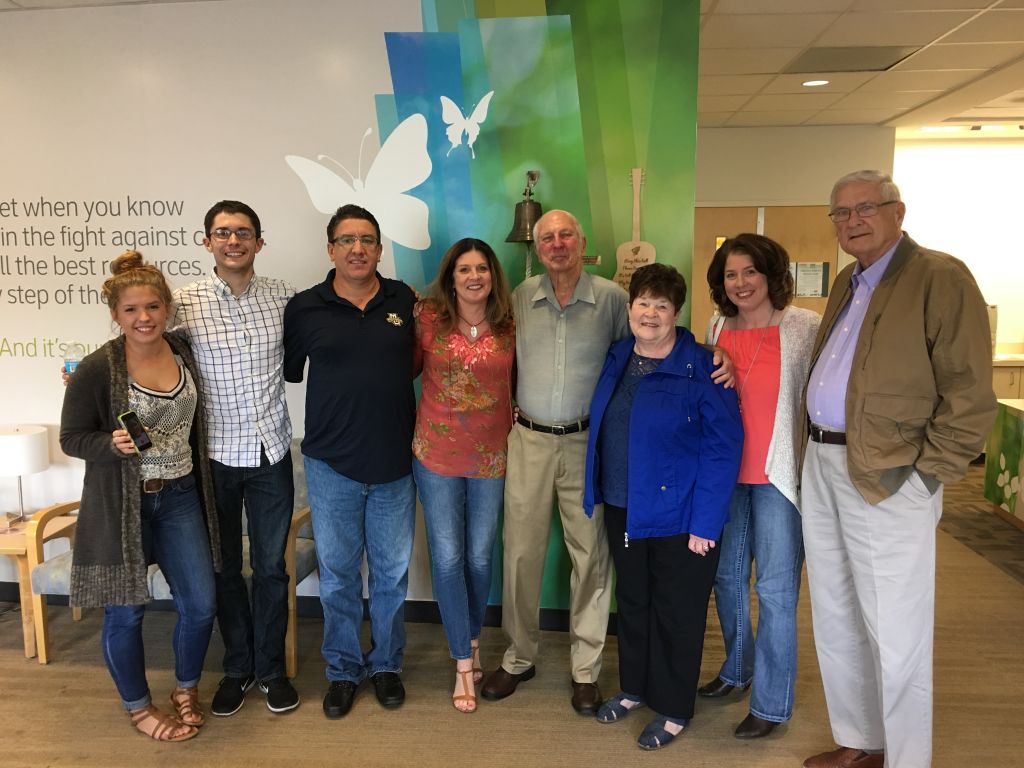 In April 2017, Mitoraj started his staggered six-week treatment of radiation to focus on the primary tumor site. The second time was a lot easier, Mitoraj mentions. Since he did not have to have chemo and it was a smaller site being treated, he did not lose any weight and was able to eat food.  When mentioned that the nurses were impressed with his positive attitude through this whole ordeal, Mitoraj remarks, "Well, then we are both impressed with each other."
On September 6, Mitoraj, his wife, brother, two daughters, one son-in-law and two of his grandchildren came to Advocate Sherman for his last radiation treatment. He then continued the tradition of oncology patients before and after him of ringing the celebratory bell in the center's lobby.
Later, Mitoraj shared his family has been extremely amazing and supportive through this whole journey. His daughter from Texas had just been up to be with him prior to his last treatment, and he proudly remarked he has a grandson who is planning to be a physician and research cancer.
Dr. Song concludes, "I expect Tom to do really well from this point on."
Related Posts
Comments
About the Author
Jennifer Benson, health enews contributor, is coordinator of public affairs for Advocate Aurora Health. She has 10+ years of community development and communication experience for non-profits and has a BA in Architecture from Judson University in Elgin, IL. Outside of work, you can find her planning the next adventure near water or rocks, re-organizing spaces, working on her Master's in Public Health, caring for her senior citizen cat, keeping to healthy moving and eating disciplines and growing green things wherever she can find room.