Can eating these two things prevent cancer?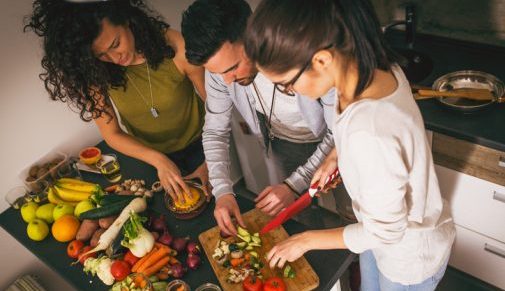 Colorectal cancer is the third most common cancer in the U.S., and about one in 21 men and one in 23 women get it, according to the American Cancer Society.
In fact, it is the third leading cause of cancer-related deaths for women and the second highest for men. But you have the ability to help prevent getting this serious disease, according to a new study.
The report, released by the American Institute for Cancer Research and the World Cancer Research Fund International, shows colon cancer can be closely related to the type of lifestyle you choose to live, specifically what your body consumes nutritionally. The report studied data from more than 29 million adults – 250,000 of whom had colon cancer – and found that eating red and processed meats and drinking alcohol increases your risk for colon cancer. It also noted that drinking milk, eating whole grains and exercising at least 30 minutes a day can help protect people from colon cancer.
"The extensive review of the scientific literature revealed that colorectal cancer is largely preventable through a healthy diet and lifestyle," said report panel member Dr. Edward Giovannucci, in a press release.
Having more than one alcoholic beverage a day and being overweight can also contribute to colon cancer, according to the new report.
"The findings from this study show the risk of colon cancer with alcohol ingestion and consumption of red and processed meat," says Dr. Asif Lakha, a gastroenterologist at Advocate Lutheran General Hospital in Park Ridge, Ill. "In fact, alcohol and processed meat are classified as group one carcinogens, which means there is sufficient evidence that they cause cancer in humans."
The report recommends the average person consume about three servings of whole grains a day – such as brown rice or oatmeal – and limiting your intake of red meat to no more than 17 ounces a week. Following this guideline may lower your risk for colon cancer by 17 percent.
Dr. Lakha wants to remind everyone that most colon cancer is preventable, and it is important to get regular colonoscopies.
"The current guidelines recommend that average risk people get their first colonoscopy at age 50," explains Dr. Lakha. "People thought to be at higher risk of developing colon cancer include those with a first-degree relative diagnosed with colon cancer before the age of 60 or two or more first-degree relatives diagnosed at any age, as well as patients with a history of inflammatory bowel disease like ulcerative or Crohn's colitis for more than eight to 10 year's duration."
Concerned about your colon health? Take our Colorectal Health Assessment to determine your estimated lifetime risk.
Related Posts
Comments
About the Author
Marrison Worthington, health enews contributor, is a public affairs and marketing manager at Advocate Christ Medical Center in Oak Lawn, Illinois. She is a graduate of Illinois State University and has several years of global corporate communications experience under her belt. Marrison loves spending her free time traveling, reading organizational development blogs, trying new cooking recipes, and playing with her golden retriever, Ari.