This may make you reconsider your midday meal choice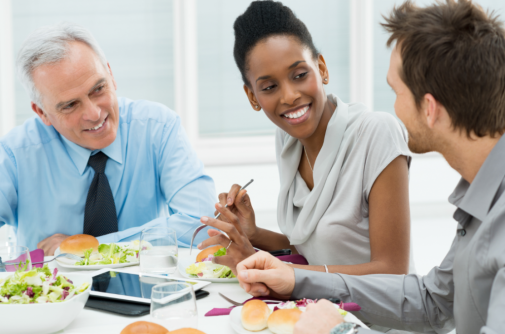 Your choice in midday meals may be more important than you realize. Some foods can leave you feeling tired, sick – or even hungry shortly after.
Hannah Diamond, a registered dietitian at Advocate Christ Medical Center in Oak Lawn, Ill., says there are foods you should be saying "no" to at the noon whistle:
Fried food
Fast food ("Especially burgers, pizza, fried chicken sandwiches and fries!")
Sugary drinks
Some yogurt: "Avoid the ones with sugary toppings," she says. "It's best to choose plain yogurt and then add in your own flavorings like vanilla extract, nuts, seeds or fruit."
Another important mealtime tip – "Don't eat a large lunch. It may make it difficult to keep calories in check. Tiredness may occur after a large meal due to your body working to digest the meal."
Diamond says this can also occur if your meal is particularly carbohydrate-rich, which can lead to blood sugar fluctuations that may result in post-meal fatigue.
She offers the following suggestions to keep lunchtime healthy and not leaving you hungry:
Pack a lunch. "Preparing meals in advance gives you control over exactly what you'll be eating," she says. "The cost savings may be obvious, but it also gives you an opportunity to budget your calories."
Stack your sandwich safely. "If you're a sandwich lover, I would suggest choosing whole-grain bread and topping it with a few slices of turkey or chicken and your favorite vegetables," she says.
Be careful with sandwich and salad toppings. "This is where calories and fat can really add up. Limit cheeses, full-fat spreads like mayonnaise and choose your salad dressing wisely! Vinaigrette salad dressings tend to be less caloric than their creamy counterparts, but always read the Nutrition Facts label to determine exactly what is in the food you're choosing."
Wisely wash it down. Diamond recommends sticking with water or your favorite unsweetened beverage when considering a drink.
Start with the staples. "Incorporating foods containing fiber, protein and healthy fat will help keep you satisfied to hopefully avoid the afternoon slump," Diamond says. "Some healthy lunch staples include plain Greek yogurt topped with toasted nuts and/or fresh fruit, salads topped with avocado and a lean protein like chicken or fish."
Related Posts
Comments
About the Author
Holly Brenza, health enews contributor, is a public affairs coordinator on the content team at Advocate Health Care and Aurora Health Care. She is a graduate of the University of Illinois at Chicago. In her free time, Holly enjoys reading, watching the White Sox and Blackhawks, playing with her dog, Bear and running her cats' Instagram account, @strangefurthings.