Beyond the bedside: How a nurse made a mom's last days more meaningful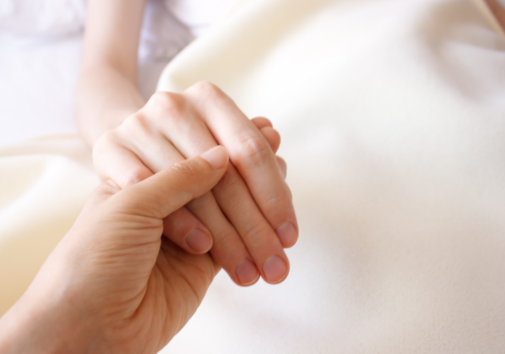 Nurses are skilled at healing, but their care often goes way beyond the beside.
Nurse Hayley Ermer went above and beyond to make one family's last days together special.
Hayley is a nurse in Advocate Good Samaritan Hospital's Critical Care Unit. Last spring, Hayley took over the care of a patient who had been recently diagnosed with a brain tumor. The patient, who we'll call "Susan," was transferred from her local hospital in Springfield, Ill., to Good Samaritan.
Susan was in her 30s, married, the mother a three-year-old little girl, and she was also a nurse. Hayley quickly formed a bond with Susan and her husband. After learning her prognosis of only days or weeks to live, the patient desperately wanted to spend time with her daughter.
Hayley sprang into action and promised Susan that she would not only be able to see her daughter, but she also made sure to make it a positive and memorable interaction for the family. Hayley went to the hospital gift shop and purchased a book titled "I love you mommy" and a stuffed animal for Susan to give her daughter during the visit. Hayley watched the little girl's face light up and immediately knew how precious this moment was for the whole family.
But Hayley's support did not stop there. Knowing the patient lived three hours away and wasn't up for the drive home, Hayley encouraged Susan to relocate to a nearby hospice house. She did some research for a place with a homelike setting where the family could be more comfortable to spend their remaining days together. Hayley showed her photos of an inviting patio and playroom for her daughter.
It was seeing the child's playroom that helped Susan make this difficult decision to transfer to the hospice house. She moved that evening.
Two days later, Hayley reached out to the husband and learned that Susan was able to spend an afternoon on the beautiful patio in the sunshine visiting her family and watching her daughter play. She passed away peacefully the following evening.
It is Hayley's compassion and commitment to her patients that helped this family through a difficult time. It was the little things Hayley did to help make the last days of this young mother's life the best they could be.
Related Posts
Comments
About the Author
Angela Hacke is the manager of public affairs for Advocate Charitable Foundation. She has more than 17 years of experience in communications, and has been with Advocate for the last 12 years. In her free time, she enjoys hanging out with her family, exercising and reading.