Warning: Your foot pain may turn deadly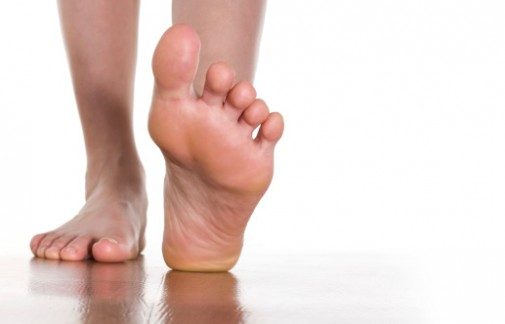 Feeling comfortable in your own shoes measures more than your self-confidence; it can also shine a light on the condition of your blood circulation.
If the worst part of your morning routine is slipping your shoe over a painful foot blister or callous that won't heal—especially if you have diabetes—then your aching feet could be sending a warning signal you won't want to ignore.
Foot ulcers often signal poor circulation and insufficient blood flow to your limbs. They first appear as a reddened blister, a thick callous or a small cut and can quickly progress to major complications. When left untreated, foot ulcers can progress to infections, amputations and even death.
As many as one-third of people with diabetes will develop at least one foot ulcer in their lifetime. People with high blood pressure, high cholesterol and a family history of critical limb ischemia are also at risk for foot ulcers.
"What starts out as a minor cut or a small callous on the foot can turn into a life-threatening condition, if not diagnosed and treated properly," says Dr. Jaafer Golzar, an interventional cardiologist and vascular specialist at Advocate Trinity Hospital in Chicago.
Infected foot ulcers often become discolored and should receive immediate attention. "Many of the major limb amputations we see are the result of foot ulcers," Dr. Golzar explains, adding that foot and leg amputations typically come with a shortened life expectancy and a host of related expenses.
Yet, major amputation should always be the last result and reserved for extremely complicated cases where blood flow cannot be restored to the limb, Dr. Golzar says. In fact, under his leadership, Advocate Trinity Hospital has developed a dedicated Limb Salvage Program that has reduced the need for major foot and leg amputations by 66 percent over the past two years.
Today, only 1.5 percent of patients who come to Advocate Trinity for major limb amputation surgery will require a major amputation. "Thanks to the team effort of our vascular specialists, podiatrists and wound care physicians, we have made great advancements in the ability to save a threatened limb in patients with poor circulation," Dr. Golzar says.
However, the best way to avoid the serious complications associated with foot ulcers is to see your doctor at the first signs of a foot sore, blister, callous or cut that won't heal, and follow these tips:
Check your feet daily and monitor any injuries. If any breaks in your skin don't improve quickly, see your physician.
Avoid poor-fitting shoes that rub, scratch or put pressure on your feet. If your shoes suddenly begin to hurt, look for reasons why.
Keep your feet clean and dry, with neatly-trimmed toenails.
Dr. Golzar recommends seeing a podiatrist if you have corns or callouses, and seeking help from a vascular specialist committed to limb salvage for any foot ulcers that do not improve quickly under a doctor's care.
Related Posts
Comments
About the Author
Cassie Richardson, health enews contributor, is regional coordinator on Advocate Aurora Health's Public Affairs team. She has more than 10 years of experience in health care communications, marketing, media and public relations. Cassie is a fan of musical theater and movies. When she's not spreading the word about health and wellness advancements, she enjoys writing fiction.