Is your job making you sick?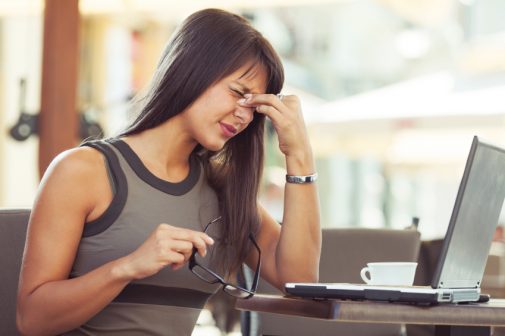 When it comes to your work space, there are countless factors that can impact your overall health.
Dr. Yasser Said, an internal medicine physician at Advocate Christ Medical Center in Oak Lawn, Ill., says that while  negative risks exist, preventative measures can be taken to help you stay as healthy as possible.
He offers these tips to make sure you are properly caring for yourself at work while simultaneously taking care of business:
Snack Attack
Many people can attest to falling into the afternoon slump, when a sweet snack almost seems necessary.
Dr. Said recommends keeping healthy snacks on hand so that when hunger strikes, you aren't tempted to head to the vending machine or raid your co-worker's candy bowl.
"Ideally, your snacks should have minimal simple carbohydrates. Protein bars and water provide you with the calories you need while minimizing the highs and lows from carbohydrates," he says.
With a wide variety of protein bar flavors available, it is easy to find one that will satisfy your cravings. Be sure you are selecting healthy granola bars by reading nutrition labels before purchasing, Dr. Said adds.
Germ Alert!
Your desk space may be harboring more germs than you think.
"Research has shown that work surfaces – particularly computer keyboards and accessories – are teeming with pathogenic, or disease-causing, bacteria," Dr. Said says. "These spaces are often not cleaned adequately, resulting in bacterial colonization, and ultimately, sickness."
He recommends keeping disinfecting wipes in your office, and being sure to clean keyboards, computer mice, all surfaces, doorknobs, phones, light switches, etc. Don't forget to wipe down places you may not immediately think of, such as microwave/refrigerator handles and buttons, copy machine touch points and other common area surfaces.
Quick Fix
Dr. Said recommends staying prepared by keeping everyday wellness tools available at your workstation. Things like hand sanitizer, ibuprofen and tissues are sure to come in handy at some point.
Hydration Station
It is easy to forget to drink water while you're busy working, but Dr. Said emphasizes that staying hydrated during the work day is a vital part of preventing illness.
"Be sure to carry a reusable water bottle with you. Try to finish it before your shift, and push yourself to refill it throughout the day, as well," he says.
He also recommends using your lunch break to drink at least 12 ounces of water.
Vision Precision
Eye fatigue or strain from working on a computer all day can be detrimental to your ocular health. Dr. Said says issues can be alleviated by speaking with your ophthalmologist about your job requirements.
"If you are squinting or having to work very closely to the computer screen in order to see, you may need to have your vision checked," he says. "Oftentimes, a prescription update or glasses/contact lenses may do the trick."
Related Posts
Comments
About the Author
Holly Brenza, health enews contributor, is a public affairs coordinator on the content team at Advocate Health Care and Aurora Health Care. She is a graduate of the University of Illinois at Chicago. In her free time, Holly enjoys reading, watching the White Sox and Blackhawks, playing with her dog, Bear and running her cats' Instagram account, @strangefurthings.