Why the viral "Tide Pod Challenge" is dangerous – and possibly deadly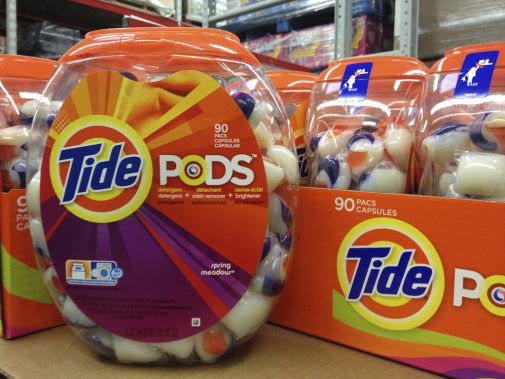 Viral challenges aren't a new thing.
From the "cinnamon challenge" to the "the floor is lava," many YouTube challenges taken up by teenagers range from silly to bizarre. But the latest internet dare can be truly dangerous—possibly even deadly.
The #TidePodChallenge—a social media craze where teenagers intentionally ingest single-load liquid laundry detergent packets for bragging rights—is so dangerous, in fact, the American Association of Poison Control Centers recently issued an alert warning against it. Social media platforms are taking action with YouTube, Facebook, Instagram and Google all vowing to remove posts from its platforms.
Yet, all of these efforts still may not stop the phenomenon that has born a flood of memes and tweets, causing many health care professionals concern.
Liquid detergent contained in Tide Pods is a common household item—but just because it is common doesn't make it safe. Between 2012—when Tide Pods first hit the market—and 2017, the Consumer Product Safety Commission (CPSC) has reported the deaths of two young children and six elderly adults from the ingestion of liquid laundry packets.
"Many everyday household items can be hazardous, if not used for their intended purpose," says Dr. Charles Nozicka, an Advocate Children's Medical Group pediatric emergency medicine specialist at Advocate Children's Hospital in Park Ridge, Ill. "Laundry packets are clearly not meant to be consumed, and eating them intentionally or by accident can be especially dangerous for children who are still developing."
According to Dr. Nozicka, Tide Pods easily burst in a person's mouth because the water-soluble pouch dissolves quickly. The chemicals inside can cause severe burns in the mouth and throat, acute breathing problems, esophageal corrosion, changes in blood pressure, gastrointestinal problems and lung problems. Ingestion of these chemicals can also cause depression of the central nervous system, which can lead to unconsciousness and death.
"Even consuming small amounts can induce severe vomiting, abdominal pain, diarrhea and cause long-term damage," says Dr. Nozicka. "Anyone who suspects someone they know has ingested chemicals from a laundry packet should call the national poison control center hotline at 1-800-222-1222 and get the exposed person to the emergency room immediately."
The American Association of Poison Control Centers (AAPCC) has logged thousands of incidents of accidental exposure, including 40 reported exposures by 13- to 19-year-olds in the first few days of 2018. More than half of those have been deliberate.
"Snacking on chemicals is no joke," says Dr. Nozicka. "This trend goes beyond being bizarre. It's really troubling."
Related Posts
Comments
About the Author
Crystal Olsen, health enews contributor, is a coordinator of public affairs for Advocate Health Care in Downers Grove. She earned a Master's degree in Political Science from the University of Illinois at Urbana-Champaign, and has her Bachelor's in Political Science and Communication from the same institution. Crystal has worked in government, politics, and public affairs for nearly a decade. Coming from a family of journalists, she enjoys reading the paper and staying involved in her community. Crystal resides in Chicago and can often be found biking around the neighborhoods looking for a new record shop to frequent.