Articles by "Crystal Olsen"
Crystal Olsen, health enews contributor, is a coordinator of public affairs for Advocate Health Care in Downers Grove. She earned a Master's degree in Political Science from the University of Illinois at Urbana-Champaign, and has her Bachelor's in Political Science and Communication from the same institution. Crystal has worked in government, politics, and public affairs for nearly a decade. Coming from a family of journalists, she enjoys reading the paper and staying involved in her community. Crystal resides in Chicago and can often be found biking around the neighborhoods looking for a new record shop to frequent.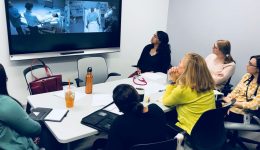 Learn how the right investments can ease the transition for new care providers and benefit patients.