Knowing this could help you save someone's life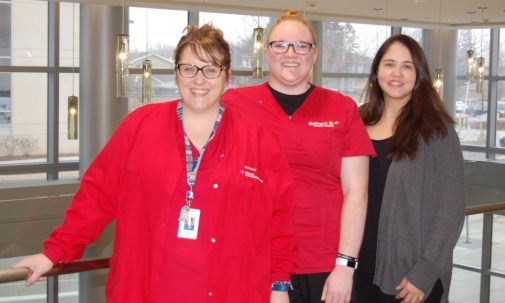 On December 5, Angela Pacius and Jen Townsend, two phlebotomists at Advocate Christ Medical Center and Advocate Children's Hospital in Oak Lawn, Ill., saved a woman's life by thinking fast and using one very important skill – cardiopulmonary resuscitation, more commonly known as CPR.
Angela had been drawing blood when she heard what sounded like shouts for help coming from outside her office. After locating where the sounds were coming from, she saw that a woman was passed out in-between the doors of an elevator. Other medical center visitors had been calling for help, unsure of who the woman was and how to best assist her.
"Initially, I didn't see her chest rising and falling," says Angela. "I was checking for her pulse, which I couldn't feel, when Jen arrived. Jen confirmed she also didn't feel a pulse, and we immediately began CPR."
As paramedics were called, Angela went to find a defibrillator, as it was confirmed the CPR was not working on its own. The pads were placed on the patient, and shocks were delivered three times, after which the patient began breathing again. Paramedics arrived quickly after and transported the patient within the medical center to receive advanced medical care.
While CPR isn't the sole factor that helped this woman, Angela and Jen believe that being CPR certified and continuously renewing this certification is what ultimately led to the successful outcome of this situation.
"I felt confident administrating CPR and using the defibrillator because I continuously renew my CPR certification every two years," says Jen. "I think many people have taken a CPR class or know CPR, but may not feel confident to use the skill in these situations in fear they might do something incorrectly. Because I revisit and renew the skill, it's something I don't easily forget."
Angela felt similar and says that in clinical and some non-clinical CPR classes, they not only teach you to do CPR, but to use a defibrillator as well.
While you may think Angela and Jen only know the skill so well because they work in a medical profession, you might be surprised to discover that both decided to learn the skill before coming to Christ Medical Center.
"I have three children, and all of them have asthma or respiratory problems," says Angela. "I wanted to learn CPR for my children's own safety."
Jen, who knew the skill beforehand, recently refreshed her skills after taking an Emergency Medical Technician (EMT) class and enrolling in nursing school.
Overall, the entire event took roughly ten to fifteen minutes. After, when Angela and Jen had time to catch their breaths and reflect, they said they realized what they had just done and the fact that the skill had potentially just saved a person's life and saved a family grief.
Advocate Christ Medical Center and Advocate Health Care offer a variety of CPR classes for different skill levels and purposes. You can view them here by searching "CPR".
Related Posts
Comments
About the Author
health enews staff is a group of experienced writers from our Advocate Health Care and Aurora Health Care sites, which also includes freelance or intern writers.