Nutrition "need to knows" from a registered dietitian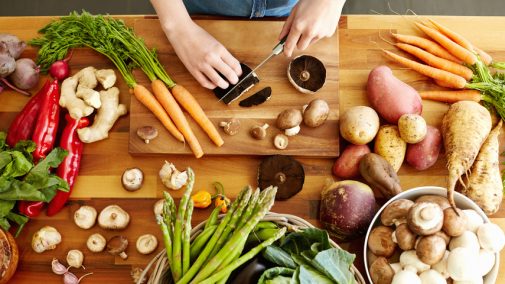 In recognition of National Nutrition Month and Registered Dietitian Day, we asked Tara Allen, registered dietitian at Advocate South Suburban Hospital in Hazel Crest, Ill., what we need to know when it comes to the food we eat and how it relates to our health.
Q: How important is what we put into our bodies when it comes to disease management/treatment?
A: Live to eat or eat to live? The foods we eat are critical to the prevention and treatment of chronic illnesses such as diabetes, high blood pressure, high cholesterol and GI issues (GERD, constipation). A number of foods could potentially lower the risk of certain cancers.
Q: What kinds of foods do you recommend people eat to ward off illness/disease?
A: Anti-inflammatory foods such as those with omega 3 fatty acids (salmon, sardines, flax seeds, chia seeds), vegetables (greens, spinach, kale, broccoli, cauliflower), fruits (berries, citrus fruits), healthy fats (avocado, walnuts), spices (turmeric, ginger) and beverages (water, unsweetened green tea) can lower your risk and help manage chronic illness. Choose more of a plant-based meal plan with lean protein, non-starchy veggies, healthy fats and high-fiber foods such as beans and oatmeal. Choose whole, natural foods vs. processed foods and complex carbs vs refined carbs. Eat baked foods vs. fried.
Q: Do you believe in 'everything in moderation'?
A: There no 'bad' foods. Foods such as sweets (cakes, cookies) and chips can be eaten occasionally. Just make sure most of your foods are healthier choices.
Q: How does a registered dietitian fit into a patient's care plan?
A: Registered dietitians play a critical role as a part of multidisciplinary teams (with doctors, nurses, social workers, physical and occupational therapists) in various outpatient (diabetes centers, corporate wellness centers, fitness centers, doctor's offices, nursing homes) and inpatient (hospital) settings. Dietitians work with patients to manage disease, and most importantly, to assist in lowering the risk or preventing disease.
Q: What types of patients do you most often treat?
A: Dietitians treat patients with obesity, diabetes, high blood pressure, high cholesterol, cancer, pressure ulcers, celiac disease, GERD, etc.
Q: How does someone connect with a dietitian? 
A: Dietitians working in the hospital screen patients or receive consults. If certain criteria are met (malnutrition, GI cancer, pressure wounds), the patient is seen and assessed. Oral nutritional supplements or nutrition support may be provided and nutrition education conducted. Some patients, depending on diagnosis, will be referred to an outpatient center. Dietitians in the outpatient center counsel patients individually or in the group setting. Depending on insurance, medical services such as medical nutrition therapy for diabetes is covered.
Learn more about nutrition services or find a dietitian near you. 
Related Posts
Comments
About the Author
Holly Brenza, health enews contributor, is a public affairs coordinator on the content team at Advocate Health Care and Aurora Health Care. She is a graduate of the University of Illinois at Chicago. In her free time, Holly enjoys reading, watching the White Sox and Blackhawks, playing with her dog, Bear and running her cats' Instagram account, @strangefurthings.