A cancer diagnosis while pregnant?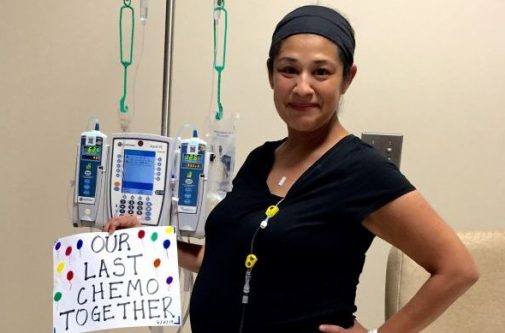 Colorectal cancer, more commonly known as colon cancer, is the third most common cause of cancer among women, according to the Centers for Disease Control and Prevention (CDC).
While colon cancer is rare in pregnancy, with only a 0.002 -0.005 percent chance of occurrence, according to Dr. Amar Hamad, a hematologist and oncologist at Advocate Christ Medical Center in Oak Lawn, Ill., it's extremely difficult to diagnosis women with colon cancer during pregnancy because the symptoms are so similar.
Dr. Hamad says common symptoms include:
Rectal bleeding
Nausea and vomiting
Constipation
Anemia
Fatigue and weakness
While rare, it never hurts to raise awareness, especially as research suggests that more and more people are being diagnosed with colorectal cancer at a younger age.
Raquel Lopez was diagnosed with colon cancer at Advocate Christ when she was 40-years-old and 28 weeks along in her pregnancy in April of 2017.
"At first, I had noticed a little bit of bleeding and had attributed the symptom to hemorrhoids, but after I got pregnant, the bleeding, cramps and bowel movements suggested something else might be wrong," she says. "Because of my age and because I have no history of colon cancer in my family, I never suspected I had colon cancer. Had I not been pregnant and overly cautious about my health, I don't think I would have ever known."
What does treatment look like?
According to Kelly Baker, GI nurse navigator at Advocate Christ, "When a referral is received and the patient is pregnant, immediately, you understand that it not only will require the usual multidisciplinary team of gastroenterologists, medical oncologists, surgeons and radiation oncologists, but now is a coordination of complex treatment planning, including the expertise of high-risk obstetrics and maternal fetal medicine. The interdisciplinary team meets within 24 hours of diagnosis, and a compassionate and concise care plan is developed to ensure safe passage not only for the patient, but for the baby, too."
While the treatment may seem exhaustive, or even scary, Raquel and her 7-month-old son, Maximus, are both doing well.
"It's a heart-wrenching experience to be pregnant with colon cancer and wonder how bad it is and if you're going to be around for your child," says Raquel. "But you have to be positive. I think telling this story is important because it might be able to help even one person in this situation, no matter how unique or rare it is."
Lisa Wieland, another Advocate Christ patient, is well aware of how a support system and conversation around this topic can be beneficial.
Lisa was diagnosed with colon cancer at the age of 38 while only 16 weeks pregnant. She is now coming up on her two-year anniversary of being cancer free and has a has a healthy 2-year-old, 6-year-old and 9-year-old.
She met Raquel in a Facebook group after being connected by retired Advocate Christ radiation oncology nurse, Gerri Neylon.
"When I was first diagnosed, I was looking for any information and material I could find about my situation," says Lisa. "I was surprised to find that there was very little out there."
Initially, Lisa had tried connecting with people who were going through what she was with a program dedicated to connecting mothers who are pregnant and battling cancer at the same time. Unfortunately, Lisa was unable to connect with anyone who'd had colon cancer while pregnant because there was nobody registered with the program who'd been in the same situation – it was that rare.
As you can imagine, one of Lisa's greatest concerns was if her baby would be harmed by her treatment. Namely, the radiation from the CT scan and the multiple rounds of chemotherapy she'd have to undergo while pregnant.
Dr. Hamad wants you to know that if you are diagnosed with colon cancer during pregnancy, it's important to remember that with the right multidisciplinary team and care, there is a greatly reduced chance of harm for your baby, if any. You will, however, have to undergo multidisciplinary treatment that may include additional surgery and/or chemotherapy during your second or third trimester.
"While colon cancer screening is generally recommended for those who are 40 years of age or older, if colon cancer runs in your family or if your physician has told you you're at a higher risk, it never hurts to consider being screened if you're planning to conceive children anytime soon," says Dr. Hamad.
When diagnosed early, colon cancer usually responds well to treatment. Learn more about our Cancer Institute and how we might be able to help you here.
Related Posts
Comments
About the Author
health enews staff is a group of experienced writers from our Advocate Aurora Health sites, which also includes freelance or intern writers.