Why this woman slept sitting up for years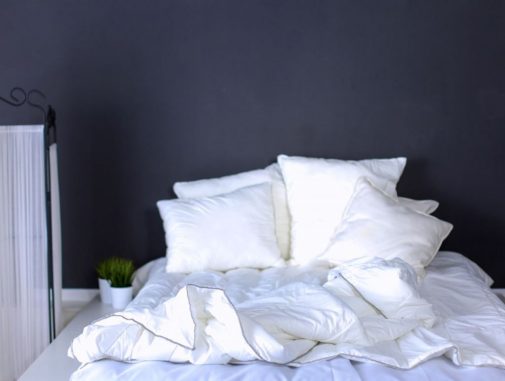 Can you imagine having to sleep sitting up straight for years?
That was 67-year-old Barbara's reality due to her severe case of GERD, more commonly known as gastroesophageal reflux disease.
Barbara has a hiatal hernia, which is when the stomach is pulled up into the chest, and allows stomach contents and acid to come back up into her esophagus. For over a decade, she was treated with Proton Pump Inhibitors (PPIs), a common medical prescription for acid reflux, but none of them really made her feel better.
Eventually, her doctor recommended she get off PPIs because of the unknown long-term effects these medications could have on her health.
"Hiatal hernias are fairly common in people 60 and older – more than half of this age group has one," says Dr. Marc Mesleh, a minimally invasive foregut surgeon at Advocate Christ Medical Center in Oak Lawn, Ill. "A hiatal hernia is when the stomach is getting pulled up into the chest. This often makes the valve called the lower esophageal sphincter weaker, causing more heartburn. In patients with a hiatal hernia like Barbara, medications typically do not fix their symptoms. The hernia needs to be fixed surgically."
Barbara's GERD was so severe that doctors recommended she explore having the LINX surgery done.
"My symptoms from GERD caused me absolutely horrendous pain and got in the way of my life," says Barbara. "For years, I would have to sleep sitting up just so I could manage the pain of my acid reflux. The only other thing that would help me was if I stopped eating at least four hours before I went to bed."
"No type of medication would truly make Barbara feel better with how severe her symptoms were", says Dr. Mesleh. "Barbara needed a permanent solution to keep her valve between the stomach and esophagus closed. That's when we recommended she explore having the LINX laparoscopic surgery."
The LINX surgery takes a device consisting of a small quarter-sized flexible band of magnetic titanium beads and places it around the esophagus. The contracting magnetic force of the band strengthens the body's natural barrier against acid reflux while still allowing food and liquid to easily pass through when swallowing. The magnets open to allow food and liquid down, then close to prevent stomach contents from moving up – stopping reflux at its source.
Last May, Barbara received the LINX surgery. Barbara says part of the recovery process is teaching yourself how to digest your food again.
"You have to eat slowly," she says. "For the three months following my surgery, I had to wait about 30 second in between swallows – which isn't that bad – to ensure my food traveled all the way down my esophagus.
Ever since her surgery, she has been sleeping and eating better.
"My life has been amazing since the surgery," she says. "I can sleep lying down, and I haven't had any acid reflux. Now I can eat almost anything. I've been able to enjoy all of the foods I wasn't able to before like orange juice, tomatoes, spicy foods and pizza, to name a few."
Barbara is recently retired and is enjoying traveling, quilting, riding her bike and one of her favorite foods, pizza!
Not being treated for GERD can cause pre-cancerous changes in the esophagus and could present health issues down the road, according to the American Cancer Society.
In honor of Esophageal Cancer Awareness Month, Advocate Christ will be hosting a free community event in April to discuss the symptoms of GERD and esophageal cancer and your treatment options with Dr. Marc Mesleh and Dr. Kamran Ayub, a gastroenterologist. Click here for more information and to register.
Related Posts
Comments
About the Author
Marrison Worthington, health enews contributor, is a public affairs and marketing manager at Advocate Christ Medical Center in Oak Lawn, Illinois. She is a graduate of Illinois State University and has several years of global corporate communications experience under her belt. Marrison loves spending her free time traveling, reading organizational development blogs, trying new cooking recipes, and playing with her golden retriever, Ari.