Could this scan help save the lives of babies across the world?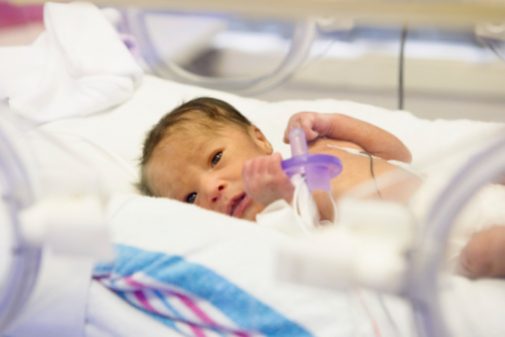 Each year in the U.S., more than 440,000 babies are born prematurely. It is currently the leading cause of neonatal morbidity and mortality in the country and has been linked to numerous health problems.
Currently, the greatest predictor of preterm delivery is a previous history, says Dr. Colleen Skay, an obstetrician-gynecologist at Advocate Good Samaritan Hospital in Downers Grove, Ill.
Pregnant women can also be screened mid-pregnancy by measuring the length of their cervix, as researchers have found that a shortened cervix can lead to preterm birth. That's why the National Institute of Child Health and Human Development has given a grant to a team of University of Illinois at Chicago researchers to further develop techniques to accurately predict preterm birth through ultrasound imaging.
The study will divide 800 pregnant women into three groups: those who have previously had a baby prematurely, women who at 20 weeks have a shortened cervix and a low-risk control group. All will undergo an ultrasound exam at 20 weeks of pregnancy and then four weeks later.
Should providers be able to identify women earlier through a non-invasive ultrasound, it could help cut down on the most common reason for a pregnant woman to be hospitalized prior to delivery and the $25 billion worth of medical expenses it is associated with, Dr. Skay says.
"Identifying mothers at risk of preterm birth allows us the opportunity to provide counseling, employ strategies to hopefully reduce risk of preterm delivery and increase the number of full-term healthy babies born within our community," says Skay.
With the additional knowledge and preparation, many women can be guarded against the risks of preterm birth.
"Preterm birth can be both emotionally and financially challenging for our families in addition to being physically and developmentally challenging for our littlest patients," she says.
Related Posts
Comments
About the Author
Nathan Lurz, health enews contributor, is a public affairs coordinator at Advocate Good Samaritan Hospital. He has nearly a decade of professional news experience as a reporter and editor, and a lifetime of experience as an enthusiastic learner. On the side, he enjoys writing even more, tabletop games, reading, running and explaining that his dog is actually the cutest dog, not yours, sorry.