A grueling but victorious battle against cancer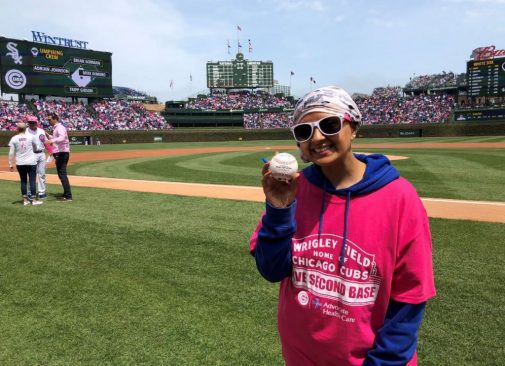 Vandana Suthar Patel was just 32 years old when she noticed a lump on her breast. At the time, she was on summer break from her job as a 2nd grade teacher at a Chicago public school. As a young and relatively healthy mom to an active two-year-old daughter, Patel didn't think much of it and pushed off making an appointment until the fall, when the lump started to feel uncomfortable.
Then, Patel received the hardest news of her life: She had stage 3 breast cancer and tested positive for a harmful BRCA2 mutation. Patel says she had no idea what the road ahead was going to be.
"I was 32 at the time, and you just don't think about this stuff when you're this young," she says.
The breast cancer team at Advocate Illinois Masonic Medical Center in Chicago, Ill., worked closely with Patel to come up with a care plan best suited to her unique case. Ultimately, Patel decided to undergo a double mastectomy with reconstruction, followed by chemotherapy and radiation therapy.
But the treatment was challenging, as the cancer was more advanced than had been evident on her breast imaging, and Advocate Illinois Masonic doctors found cancer cells even after a skin-sparing mastectomy. Patel was finally deemed to have "clear margins", meaning no visible cancer cells could be found, after removing the spared skin.
"No two breast cancer cases are exactly the same, so it's extremely important to work with patients to develop a treatment plan that is tailored to their unique case," says Dr. Rosalinda Alvarado, breast surgeon at Advocate Illinois Masonic. "In Vandana's case, our team worked very diligently to ensure clear surgical margins so as to reduce the chances of a recurrence."
"My doctors and nurses at Masonic took care of me like I was their family. They held my hand when I needed comfort and laughed with me when I needed to cheer up. They spent time with my family in the waiting room during and after surgeries," Patel says. "My doctors, nurses and especially my nurse navigator Traci also made sure all my questions were answered, appointments were scheduled and so much more. I've truly been blessed to receive their care."
Patel is currently receiving chemotherapy and radiation therapy treatments and will undergo reconstruction on the breast affected by cancer later this year. With the end in sight, she says she's looking forward to the small things in life: celebrating her toddler's birthday, visiting her students before the school year lets out for summer vacation and Cubs games with her family.
Yesterday, Patel joined nearly 30 other Advocate Health Care breast cancer patients at the Cubs Mother's Day #PinkOut Game, an annual event to honor and celebrate breast cancer fighters and survivors. The game could not be more well-timed for this diehard Cubs fan: Patel will have her final chemotherapy treatment on May 15.
"The most important thing I want to tell others is to make sure regular doctors' appointments are made and kept," Patel says. "I have a friend who never used to go to the doctor. Ever since my diagnosis, she has scheduled all her screenings and kept her appointments. If I can make a difference in one person's life, that's reason enough for me to share my story."
Related Posts
Comments
About the Author
Jaimie Oh, health enews contributor, is regional manager of public affairs and marketing at Advocate Health Care. She earned her Bachelor's Degree in Journalism from the University of Missouri-Columbia and has nearly a decade of experience working in publishing, strategic communications and marketing. Outside of work, Jaimie trains for marathons with the goal of running 50 races before she turns 50 years old.