The auditory craze causing debate for the mind and ears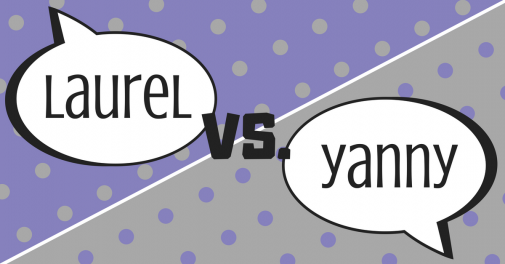 The recent internet phenomenon, "Yanny vs. Laurel" is causing people to rethink how words or names are understood and transferred from the ears to the brain. When the word is pronounced, some people hear Laurel, while others hear Yanny.
Why the difference?
The Linguistic Society of America (LSA) explains that when people pronounce words, the words are influenced from the environment, past experiences and cultural backgrounds. The verbal controversy has raised attention because Yanny vs. Laurel was originally shared over audio, but also face-to-face, causing people to hear and interpret differently.
"There are a few things that may be going on. One factor is that it depends on your auditory system," says Christina Mishu, audiologist at Advocate Children's Hospital. "'Yanny' contains more high frequency (treble) components while 'Laurel' has more low frequency (bass) components. People hear different sounds in different pitches, which is why the internet cannot decide which word the recording is saying. External factors may also play a part. Changing the audio system used to play the clip could also add some variation to the frequency. This could explain why one person can hear Laurel on one device and Yanny on another device."
And a study suggests that the way people comprehend words can differ based on the context that the words are used.
Verbal skills and speech can become stronger, such as during childhood to adulthood, and can potentially weaken over time. No matter one's verbal pace, the way that people pronounce certain letters, such as "R" in Laurel, are not always consistent. Researchers from the British Library note that it is common for people to modify the way they pronounce specific sounds due to human nature.
The researchers labeled this adjustment as "connected speech processes", which usually occur in the English language. For example, their data illustrates there are four ways the letter "R" can be expressed in words.
They also mention that brain activity impacts word meaning because different locations of the brain indicate new functions and semantics. Specifically, they found that a word's context is most related to the posterior middle temporal gyrus, otherwise known as the area of the brain that sparks physical motion.
The study emphasizes the brain uses prior experiences and knowledge before determining the way a word should be interpreted or pronounced. Every person processes words in their own unique way, and factors like noise or the means of communication can affect verbal understanding.
What do you hear? Let us know in the comments below.
Related Posts
Comments
About the Author
Kelsey Andeway, health e-news contributor, is a public affairs intern at Advocate Health Care in Downers Grove. She is a senior at Loyola University Chicago earning a bachelor's degree in Communication Studies with a minor in Dance. In her free time, Kelsey enjoys dancing, baking, and taking long walks with her Chocolate Lab.