"Namaste" for all, including children?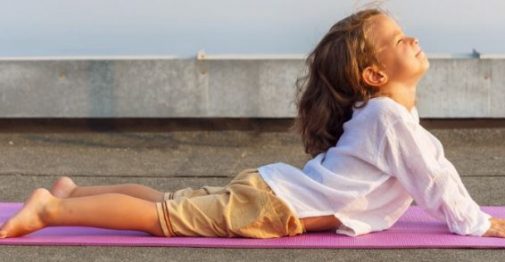 Just as adults experience stress, the American Academy of Pediatrics reports children undergo stress, too. Life-changing events and everyday worries can cause youngsters to carry an extra burden on their shoulders.
A 2014 study published in Frontiers in Psychiatry explains that children and young adults who partake in yoga more than often learn how to manage the demands of everyday life better, while experiencing a significant shift in their overall mood. Researchers note yoga is useful since young people are exposed to increased anxieties that have been created by personal and external pressures, and this practice can act as a sense of control.
"Our bodies were evolved to respond to perceived threats in our environment by engaging our fight or flight response, which prepares our bodies for action," says Dr. Allison Clarke, pediatric psychologist at Advocate Children's Hospital in Park Ridge, Ill. "In our current culture, worries about peer interactions and how kids are doing academically and in extracurriculars have been exacerbated by social media use. These worries are ever-present in kids' lives."
The study researchers describe yoga as valuable because it is an outlet not just for coping with stress, but also for increasing life skills. Individuals learn respect, discipline and the importance of mental breaks and physical activity, allowing children to tune in to their own feelings and bodies. Tranquility from yoga has been shown to relieve the sympathetic nervous system, the area of the brain that makes your "fight or flight" decisions and causes your heart to race. Yoga can enable young people to relax, temporarily forget about any commotion and feel welcomed into the space provided.
"Yoga and other relaxation exercises help to engage our parasympathetic nervous system and reduce this activation in our bodies," says Dr. Clarke. "It is important for children to develop and practice coping techniques so they learn how to regulate their bodies and manage daily hassles."
The study's findings also demonstrate that yoga allows children to concentrate better. In return, memory competence is increased. While participating in yoga, you can practice different poses, which impacts you physically and intellectually. For instance, confidence, posture and balance are improved in addition to your overall mental health.
Another benefit? National Public Radio reports yoga is very beneficial for autistic children. Children who have autism can feel extra anxiety and tend to thrive with routine and repetition. Yoga offers an opportunity to experience this consistency.
Has your child tried yoga? Let us know in the comments!
Related Posts
Comments
About the Author
Kelsey Andeway, health e-news contributor, is a public affairs intern at Advocate Health Care in Downers Grove. She is a senior at Loyola University Chicago earning a bachelor's degree in Communication Studies with a minor in Dance. In her free time, Kelsey enjoys dancing, baking, and taking long walks with her Chocolate Lab.