On the holiday to give thanks, 20-year-old Marcela got a cancer diagnosis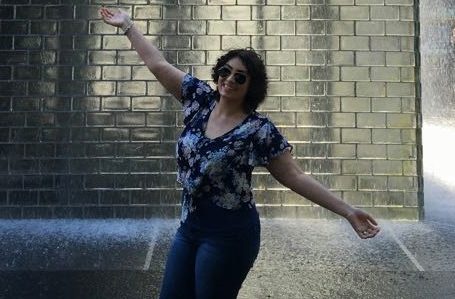 It was the day before Thanksgiving in 2016, and 20-year-old Marcela Nodal could not shake an intense migraine. A pre-med student, she finally relented and went to the emergency department at Advocate Christ Medical Center in Oak Lawn, Ill. After trying a few treatments to no avail, the doctors kept her overnight for additional testing.
On Thanksgiving Day, Marcela learned she had cancer. More specifically, acute lymphoblastic leukemia (ALL), a type of aggressive cancer of the blood and bone marrow that creates immature blood cells rather than mature ones.
With only three weeks left in the fall semester, instead of studying for finals and preparing for a much-needed winter break, Marcela was immediately transferred to Advocate Lutheran General Hospital in Park Ridge, lll. She was admitted to the oncology floor under the care of  hematologist/oncologist Dr. Angel Galvez, a physician who specializes in cancers of the blood, for what would be months of treatment, both in and out of the hospital.
"The initial assessment for Marcela included genetic studies from her bone marrow (called a bone marrow aspiration) to gauge the probability of achieving cure with standard conventional chemotherapy for ALL," said Dr. Galvez. "Unfortunately, Marcela was found to be "Philadelphia chromosome positive", which is a form of ALL especially aggressive and very difficult to be cured with chemotherapy alone."
Dr. Galvez recommended a bone marrow transplant as part of her customized treatment plan and referred her to Dr. Tulio E. Rodriguez, the medical director of Lutheran General's Blue Distinction Center for Bone Marrow Transplants.
"Marcela was an excellent candidate for bone marrow transplant. She was young with a strong heart and healthy lungs," said Dr. Rodriguez. "Marcela also benefitted from a perfectly matched sibling donor, a positive attitude and strong family support.  I knew she would not be going through her transplant alone. Her family, friends and the transplant team at Advocate Lutheran would be by her side every step of the way."
Marcela is part of a tight-knit family that includes her parents, Mercedes and Silverio, and two younger brothers, Bruno and Carlo. While both brothers were a match, Dr. Tulio advised that her youngest brother, Carlo, then age 15, provide the cells due to his physical fitness and eagerness to help. "Transplants using younger donors are safer and may lead to better outcomes and less risk for complications," stated Dr. Rodriguez.
"I was concerned that donating bone marrow would be a painful process for Carlo, but once we found out that it was a relatively simple procedure on his end, I was okay with it," said Marcela.
On March 28, 2017, Marcela received the transfusion and then went through a 100-day remission process that really took its toll. "It was difficult. I was nauseous and could not eat, so they put me on Ensure, a high-calorie protein shake. I had trouble walking and even standing on my own because I was so weak and I could not do much of anything. I did not recognize this weak body that I had once relied on. And I was on so much medication with different side effects; one even made me hallucinate things that were not really there."
On July 4, 2017, Marcela learned that her cancer was in remission. She and her family celebrated and she is now working on rebuilding her life that was put on hold during treatment.
"I get to go outside again, which was discouraged during treatment to help prevent infections," says Marcela. "I listen to my body now and make a choice daily to treat it better with organic foods, juices, tea and I try to avoid sugar."
"But my life has completely changed," she says. "During something like this, you learn who comprises your real support system. I realized just how important family really is, and you also learn who your truest and closest friends are."
"I was adamant before about becoming a physician, but after spending so much time in and out of the hospital, I wanted my career to be away from them," Marcela jokes. Fluent in English and Spanish, and learning French, Marcela decided to switch her major to international business.
"I've basically had to start over with college because required classes for a business major differ so much from pre-med, but after beating cancer, it doesn't really matter when I graduate, just that I do."
Marcela's next step is to get back to the gym to make her body stronger. Should she need support with that, she won't have to look much further than her athletic younger brother who donated his bone marrow to save her life. "Yes, he doesn't hesitate to remind me that he is my hero," Marcela says with a smile.
Related Posts
Comments
About the Author
Kate Eller was a regional director of public affairs and marketing operations for Advocate Health Care. She enjoys road trips, dogs, minimalism, yoga, hiking, and "urban hiking."