Featured Recipe: Grilled zucchini caprese towers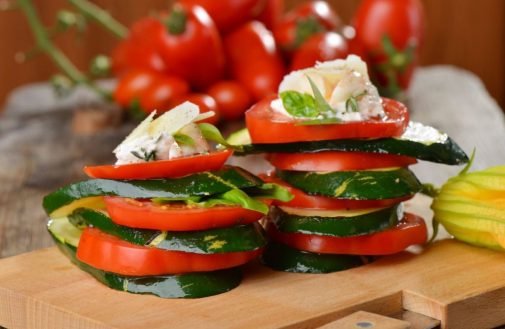 Check out this recipe brought to you by one of our very own – Katy Lyons, a registered dietitian at Advocate Sherman Hospital in Elgin, Ill.
Katy enjoys growing her own organic produce in the summer. Her home garden includes tomatoes, zucchini, cucumbers, basil, green beans, kale, peas and various types of peppers. "Tomatoes are very nutrient-dense, as they are loaded with heart-healthy fiber and a powerful, cancer-preventing antioxidant called lycopene," she says.
Katy's gardening tip: Grow basil approximately 8 to 12 inches to the south of your tomato plants so the basil gets adequate sunlight for growth, and water both plants generously. Tomatoes and basil have complementing flavors, and growing them near one another will give your tomatoes a hint of basil flavor.
"This delicious recipe puts a fun new spin on the traditional caprese salad," she says.
Ingredients
2 zucchini (about 3/4 pound), each cut diagonally into 12 slices
Cooking spray
1/2 tsp kosher salt, divided
1/2 tsp freshly ground black pepper, divided
2 tbsp extra-virgin olive oil
1 tbsp balsamic glaze
1 garlic clove, minced
4 heirloom tomatoes, each cut into 6 (1/4-inch-thick) slices
3 oz fresh mozzarella cheese, cut into 16 slices
16 cherry tomatoes, halved
Fresh basil leaves
Instructions
Preheat grill to medium-high heat.
Coat both sides of zucchini with cooking spray. Sprinkle with 1/4 tsp salt and 1/4 tsp pepper. Arrange on grill; grill 4 minutes on each side.
Combine oil, glaze, garlic, remaining 1/4 tsp salt and remaining 1/4 tsp pepper in a small bowl, stirring with a whisk.
Arrange eight tomato slices on a platter; top each with one zucchini slice, one tomato slice and one cheese slice. Top each stack with one zucchini slice, one tomato slice, one cheese slice and one zucchini slice. Drizzle balsamic dressing evenly over stacks; sprinkle with cherry tomatoes and basil.
Nutrition Facts per serving (4 servings- 2 stacks each)
Calories 201, Fat 12.4g, Carb 17g, Fiber 4.2g, Sugar 9.6g, Protein 8.4g, Sodium 452mg
Related Posts
Comments
About the Author
Jennifer Benson, health enews contributor, is coordinator of public affairs for Advocate Aurora Health. She has 10+ years of community development and communication experience for non-profits and has a BA in Architecture from Judson University in Elgin, IL. Outside of work, you can find her planning the next adventure near water or rocks, re-organizing spaces, working on her Master's in Public Health, caring for her senior citizen cat, keeping to healthy moving and eating disciplines and growing green things wherever she can find room.